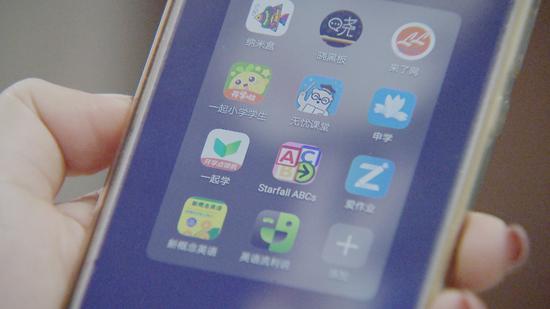 Parents need to install several study apps on the smartphone of their child, some of which are required by schools. (CGTN Photo)
School is over. But for seven-year-old Ma Jingqi, who lives in Shanghai, it is not the end of a day's study, neither the beginning of play time.
As a first grader, he already spends about two hours on homework a day, which involves half an hour of using related study apps on an iPad.
Assigning homework on study apps has become a common practice in many Chinese schools in recent years. But it has created health and internet addiction concerns. Regulators have made moves to encourage limited use of electronic devices for educational purposes, as the public opinion remains divided.
Ma said that he used one app for Chinese and mathematics, another app for English. Most of it is listening and repeating.
n recent years, some Chinese schools have been assigning homework through messaging apps like WeChat, which is almost universally used in China. Huang Yan, Ma's mother, has installed several study apps on her phone.
When the boy finishes his homework, the apps can grade it automatically, showing her the results right away.
Huang said, "Using homework apps lets me know my kid's learning progress and pace, and it's convenient for me to help him with his homework. I need to get involved in his growth."
But not every parent is buying into this trend of e-learning. While technology has brought people convenience and efficiency, it has also led to plenty of controversies.
"Its disadvantage is the effect on the eyesight, although it is much easier to do homework on the phone than bringing piles of homework when traveling," one parent, who asked to stay anonymous in the article, said.
Other parents also worry the children will rely on the phone too much instead of thinking independently.
The Ministry of Education issued a guideline last year, calling for reduced use of electronic devices when assigning homework, over concerns of eyesight damage. The eastern Chinese Province of Zhejiang released a draft regulation in February, planning to ban app-based homework. It is just one of the several provinces considering such measures.
But many say it would be impossible and unwise to reject new technology from schools in the Internet era. To use, or not to use, or how to use it wisely remains as a question for regulators, educators and parents.