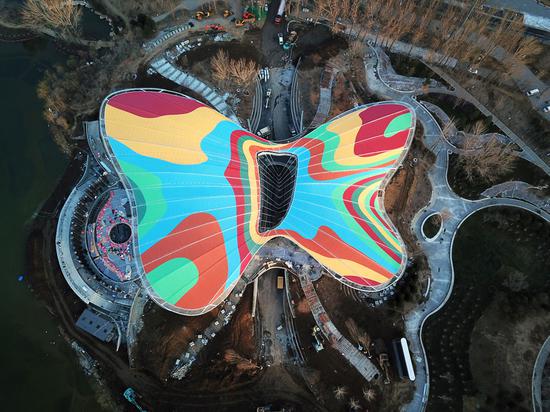 The multicolored Guirui Theater, shaped like a butterfly, is expected to be completed in early April. It will be used for the opening and closing ceremonies of the upcoming horticulture expo. (Photo/Xinhua)
The upcoming International Horticultural Exhibition Beijing 2019, set to open on April 29 in Beijing's Yanqing district, will be a major gathering for people from all over the world and a "green" business card for modern China, a senior official for the exhibition said.
Ye Dahua, deputy director-general of the expo's coordination bureau, said major construction for the event has been completed and support facilities are already being used.
"The expo is not only a good opportunity for communication between people from different parts of the world, it also fosters dialogue between humans and nature," he said.
The expo, which will run until October, covers an area of 503 hectares. It will have four major themes-international, China, life experience and horticultural technology.
So far, around 110 countries and organizations have registered to participate-a record number of participants.
Han Lili, senior engineer of the Beijing Institute of Landscape Architecture, said an important objective of the expo is reminding people about the importance of nature, plants and ecological protection.
For years, Han has been studying roof greening, a method of improving the environment. She said the expo might help more people get acquainted with the concept.
Zhao Shiwei, chief engineer of the institute, said the types and quality of flowers in China have been raised in recent years, which has helped the country gain more global influence in the sector.
"The expo will drive China's consumption of flowers and promote horticultural communication between it and foreign countries," he said. "It is also a good chance to advocate conservation of resources, ecological protection and sustainable development."
To ensure diversity of species, the authorities designed a wetland in which birds can rest, which has attracted more kinds of birds and insects. They also tried their best to avoid damage to existing plants and other natural resources during infrastructure construction.
For instance, the China pavilion uses drip irrigation, rain water collection and solar power to illustrate recycling.
Each of the pavilions shows a different culture to visitors through plants and construction design. Visitors will learn about different countries' cultures and traditions.
According to the head of a Japanese exhibition park, all the wood and decorations on display were delivered from Japan, which will help demonstrate the green life concept of the country.
According to the authorities, the expo will include flowers, fruits, vegetables, herbs and teas. Visitors will be able to have "close touch" with flowers from all over the world.