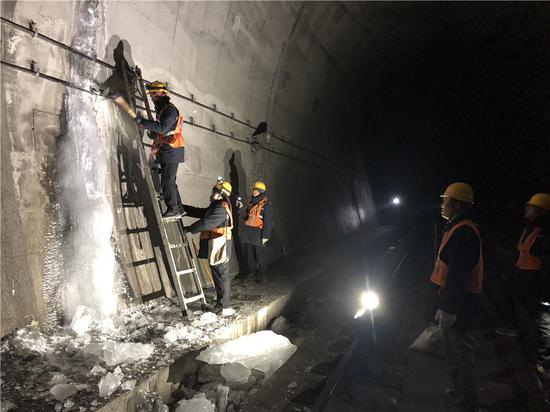 Members of the maintenance squad clear ice on the wall of a tunnel along the Lyuliang section of the Taiyuan-Zhongwei-Yinchuan railway in Shanxi province. (SUN RUISHENG/CHINA DAILY)
For nearly a decade, a team of technicians has spent the winter months shoveling and removing ice from a railway tunnel in Shanxi province to safeguard passengers' trips.
The technicians are in charge of patrolling and maintaining all the bridges, tunnels, culverts and roadbeds along the Lyuliang section of the Taiyuan-Zhongwei-Yinchuan railway, which stretches 165 kilometers across mountainous terrain in northern China.
During the grueling winter months, when temperatures in the 20-km tunnel can plummet to as low as -19 C, the technicians are responsible for clearing snow and ice from the railway tracks.
"Water that seeps through cracks in the mountains morphs into large, overhanging icicles, which are likely to fall onto the tracks and cause safety hazards," said Lian Yuansheng, Party secretary of the tunnel maintenance department.
Each day, about 48 passenger trains travel through the tunnel, leaving a tight two-hour window for the team to work on the tracks.
Lian said the technicians often have to be on standby for hours, so that when permission from the control center is granted, they can immediately enter the tunnel and dive into work.
"Outside, we were shivering and stomping to gain warmth against the sharp bite of the chill wind," he said.
"And deep in the tunnel, we were soaked in sweat as the ice removal work has to be fast, with no allowance for breaks."
The 12-man squad is often divided into two smaller groups during the mission. While one group is breaking apart compacted ice and shoveling fallen icicles with spades, the other group will be trudging forward to examine the remaining tracks.
"We also spray salt and ice-melting solution on the tracks to prevent ice from forming or to slow down the process," Lian said.
Although the mission is conducted only once or twice a week, the difficult conditions in the pitch dark, damp tunnel have already caused some technicians to have chronic rheumatic diseases.
"Just walking through the entire tunnel takes about eight hours," Lian said.
"The arduous chipping, shoveling and transporting of large chucks of ice means the technicians are totally burned out after a day of work."
During Chinese New Year, the team did not take days off to ensure the safe operation of train services.
Lian, who has been leading the team since it was formed, said he takes pride in his job as a guardian for passengers on trains.
"I can't reunite with my family members during the holiday, but thousands more who have been working far from their hometowns for almost a year will be able to ride the train and return home safe and sound," he said.