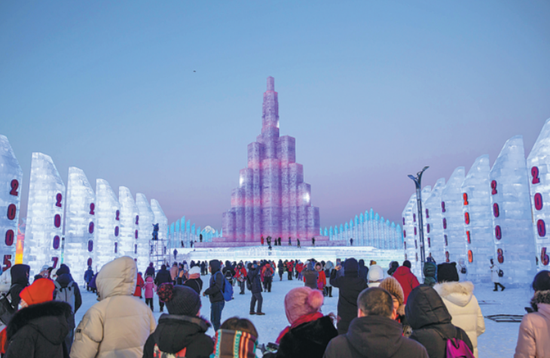 Tourists from home and abroad visit Harbin Ice and Snow World in the capital of Heilongjiang province. (Photo/China Daily)
In his studio, Sun Jiaju takes his time to draw a sausage- part of a Russian-style dish. Within several minutes, the 63-year-old sketches some simple lines on a paper and fills the contours with colors.
Be it Russian cuisine, Western-style architecture or snowy landscapes, his works all depict characteristics of Harbin, the capital of the northernmost province of Heilongjiang and a city rich in tourism.
After retiring from the tourism department in Harbin, Sun picked up his drawing pen to illustrate the beauty of the city.
Known as either "Oriental Moscow" or "Oriental Paris", Harbin became popular in the late 1800s and early 1900s after the construction of the Chinese Eastern Railway which was financed by the then Russia Empire. Apart from its unique combination of oriental and European architecture styles, the city is also known for its ice and snow festivals in winter. It is also the busiest season for Sun.
"I got up before 4 am because I kept thinking about the work I didn't finish yesterday," Sun said.
Influenced by his family, Sun developed a wide interest in the arts when he was young, though he was not professionally trained. His father, who was educated at a private school, was good at calligraphy. His brother played the violin, and his sister liked to sing Russian songs.
"Growing up in Harbin with its peculiar cultural atmosphere, I found people like us easily developing hobbies in the arts," he said. Sun spent most of his time drawing after classes.
He also sketched on bulletin boards when he served in the army. However, when the veteran started working for the local tourism bureau, he became too busy to draw. Sun did not pick up his pen again until his 50s, when a brochure introducing sketches of South Korean tourist resorts amazed him. The brochure was a gift he received on a business trip to South Korea.
"The sketches evoked some indescribable feelings in me. There's a charm in visual arts that cannot be replaced with words," Sun said. He thus decided to promote Harbin tourism with his drawings.
Sun started a studio after his retirement in 2015. To date, he has created more than 300 works connected to Harbin. His works are made into bookmarks, postcards, and brochures available in bookstores and tourist resorts.
Sun also plans to appeal to young people with his work. He has learned how to use Douyin, a video-sharing app also known as Tik Tok which is popular among young people. He also intends to teach drawing online.
"I hope both locals and tourists can find out more about Harbin, and make the city known to the world," said Sun.