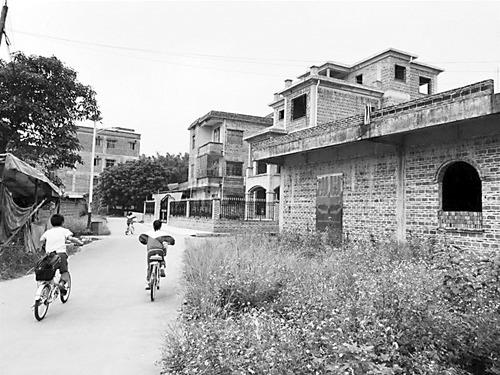 Children ride bicycle in a "Panama Village" in Huadu District of Guangzhou, capital of Guangdong province. (Photo/Global Times)
Special: Xi visits four countries, attends G20 Summit
The two-story Western-style buildings along a country road give Rulin village in South China's Guangdong province an exotic taste.
Its nickname, "Panama Village," exemplifies the ties between it and the Latin American country oceans away.
Rulin, along with several other villages in Huadu District of Guangzhou, capital of Guangdong, has been the major source of Chinese laborers sent to Panama to work on railroad and canal construction projects since the mid-1850s.
Today, around 7 percent of Panama's population of 4.3 million has Chinese ancestry, and many can trace their origin to villages in southern China.
With diplomatic ties between China and Panama established in June 2017, and a free trade agreement (FTA) currently under negotiation, exchanges are continuing to grow between Chinese Panamanians and their ancestral homes.
"Ask anyone here, it's almost certain they'll tell you they have relatives in Panama," said Liao Yundong, former head of Rulin village, "Both my daughters went to Panama after graduating high school and have settled down there."
Enrique Lau Cortes, whose father arrived in Panama more than a century ago when the Panama Canal started operation, set foot on his ancestral home in Huadu District in September for the first time.
"The Chinese cultural values taught by my father and the Panamanian characteristics inherited from my mother both run in my blood," said Cortes, who is president of the International Affairs Research Association of Panama.
"Traditions are never lost, and cultural connections bring us closer together," said Cortes during a tour of his ancestral temple in the district.
Some Chinese couples in Panama choose to send their children back to study in their home villages.
Zhu Bingshen from Rulin Village now looks after his grandson who studies at a local elementary school. His son went to Panama at 17, settled down and runs a supermarket there.
"They want their children to go to a primary school here and learn about China and Chinese culture first, and then go to school in Panama," said Zhu.
Rulin Elementary School was first set up in 1948 and was rebuilt at the original site with the support of overseas Chinese in Panama in 1995.
"The parents send their children here to study because they don't want them to forget their roots," said Zhuo Weiliang, deputy head of the school.
Eight overseas children now study in the school. Zhuo said the school has offered flexible program durations ranging from two or three months to a whole semester for children from Panama.
Local children have partnered with their overseas peers to help each other learn Chinese and English, said Li Jinlong, a teacher in the school.
Unlike their ancestors who were mainly laborers in Panama, most overseas Chinese in the country today run businesses, contributing to and benefiting from stronger bilateral trade ties in recent years.
China is the world's second largest user of the Panama Canal, and Chinese companies like Huawei and China Harbour Engineering Company Ltd. have set up their Latin American headquarters in the country.
The FTA between both sides is expected to further enhance cooperation in areas such as goods trade, service trade, financial services, investment, rules of origin, and customs procedures, according to China's Ministry of Commerce.
"Latin America and the Caribbean play an important role in boosting global connectivity under China's Belt and Road Initiative," said Wang Yiwei, head of the International Affairs Institute of Renmin University of China. "There is a lot for both sides to work on."