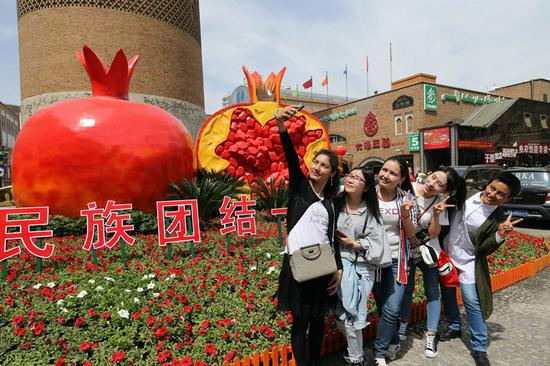 Visitors pose for a selfie at the entrance of the Xinjiang International Bazaar in Urumqi, capital of the Xinjiang Uygur autonomous region. (Photo by Li Xiongxin/For China Daily)
When it comes to the Xinjiang Uygur autonomous region, it seems that two exist: One is the reality; the other is the one portrayed in the Western media.
The allegations they make to present their false picture of the region are aimed at smearing the Chinese government. These are nothing new and indeed are now somewhat stale, as they have been used for this purpose many times before. It has become routine practice for the West to take issue with this or that in China's national and religious affairs to portray an authoritarian system that denies people's liberties.
A double standard is put into service to serve this end - China, critics in the West say, only imagines it faces a terrorist threat, and it is just Western countries that face the real threat of violence born of extremism.
Thus US Vice-President Mike Pence said in his recent speech that China is engaged in "religious persecution" and the illegal imprisonment and brainwashing of Muslims in Xinjiang, in what some Western media have called "concentration camps".
Yet the reality is many young Muslims, especially in the four less developed areas in the southern part of the region, lack education and skills, which makes them vulnerable to the extremist propaganda promoted from overseas.
The reality is the "government camps" Pence spoke of are places where young people who have committed minor crimes and who may be otherwise led into terrorist acts can master the national language, gain knowledge of the law and acquire professional skills.
With the fall of the Islamic State, terrorists have been keen to spread their poisonous ideology to the region, and the government has every reason to act to prevent their evil influence from spreading and taking hold.
In fact, its innovative vocational training initiative in Xinjiang should be welcomed by the West as a meaningful contribution to the global fight against terrorism.
That Xinjiang has not suffered a violent attack in 21 consecutive months is partially attributable to the well functioning of the system that offers a better future to young people.
Last year, Xinjiang's economy grew by 7.6 percent, markedly higher than the national average of 6.8 percent, and tourists from home and abroad paid 132 million trips to the region, up 40 percent year-on-year. These statistics speak volumes about the social order in Xinjiang and the government's efforts to steer those at risk of being misled by extremism onto a law-abiding path. Such efforts have turned potential destroyers into builders.
The people of Xinjiang, who are of many ethnic groups, will definitely not allow a handful of bad apples to hijack the bright future of their common home.