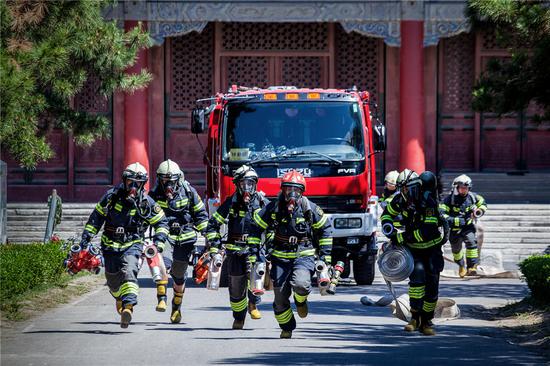 Drills are staged frequently at the Palace Museum in Beijing, where a team is stationed by the east gate to keep watch for fire in turn 24 hours a day. (Photo/China Daily)
China is set to transform its fire services and armed forestry police to build a national firefighting rescue team, according to a new government plan.
The plan, released by the General Office of the Communist Party of China Central Committee and the General Office of the State Council, aims to improve the country's disaster prevention, rescue and workplace safety, as well as to protect life and property and maintain social stability.
The new team must "stick to the absolute leadership of the CPC and be based on the national context, and should smoothly transit the team from the old system to the new to ensure the team's overall stability."
Specific management and safeguard measures for the team will be released and improved. After three years of trials, a mature policy system in line with laws and regulations will be formed.
"The forces and resources of emergency rescue should be optimized and integrated to give full play to the team's role as the main force and national team in emergency rescue," according to the plan.
The plan's main tasks are made up of six key areas, including a unified, efficient leadership system, with more fire stations built; a ranking system for command cadres, technical cadres and firefighters; and a personnel management mechanism.
A set of team management measures will be made to set up an honor system in tribute to the firefighting and rescue profession, and to establish a safeguard system that fits the profession.