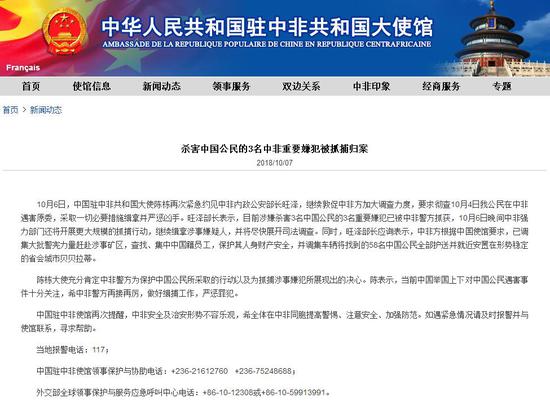 Screenshot of the Chinese Embassy in the CAR. (Photo/cf.chineseembassy.org)
Police in Central African Republic have arrested three suspects over killings of three Chinese nationals, the Chinese Embassy in the CAR said.
A boat carrying four Chinese and a local young man capsized Thursday in the town of Sosso-Nakombo, causing the disappearance of the Central African.
The surviving Chinese then went to a gendarmerie brigade to report the incident. At this moment, bandits, who were informed of the disappearance of their compatriot, came to attack the Chinese, killing three of them and seriously wounding the fourth one.
The gendarmerie brigade was also attacked and ransacked.
On Friday, Chinese Ambassador to the CAR Chen Dong had a telephone conversation with the country's President Faustin-Archange Touadera, and met with Prime Minister Simplice-Mathieu Sarandji and Minister of the Interior in charge of public security Henri Wanzet Linguissara.
The Chinese ambassador called on the CAR authorities to do everything necessary to find and punish the criminals, as well as to ensure the safety and other legitimate rights and interests of Chinese nationals in the CAR.
Touadera and Sarandji condemned the brutality of the perpetrators, and expressed their condolences to the families of the victims and to the people and the government of China.
Reinforcements have been deployed to the locality of the tragedy. The bodies of the three victims and the person who was seriously injured were sent to the capital Bangui, where the injured are currently under intensive medical care.