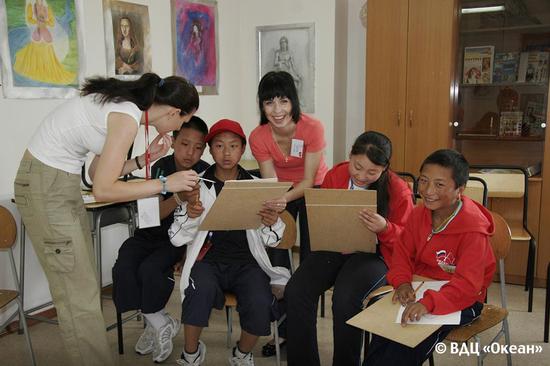 Some children from the quake-areas learn how to paint during the stay in the All-Russian Children's Center in Vladivostok. (Photo provided ‍by All-Russian Children's Center)
Special: Xi Attends 4th Eastern Economic Forum
Some 40 youngsters from the areas hit by the devastating earthquake in 2008 have been invited to visit Russia again.
The young people, from different areas of southwest China's Sichuan Province, are in the Ocean All-Russian Children's Center where they stayed 10 years ago for a series of exchange activities, including some cultural performances.
After the 8.0-magnitude quake rocked most parts of Sichuan and some neighboring provinces, then Russian President Dmitry Medvedev invited roughly 1,500 children to recuperate in the country, and about 900 of them lived in the "Ocean" center located in the Far Eastern port city of Vladivostok.