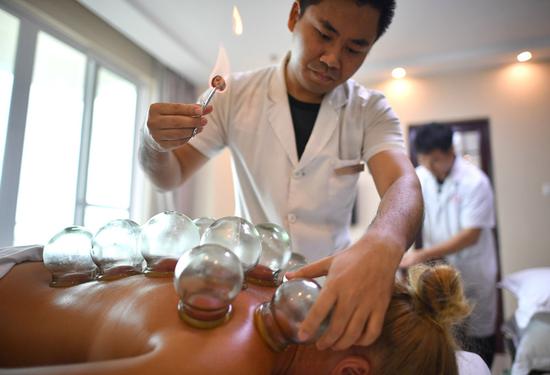 Russian tourists receive traditional Chinese medicine therapy from medical staff at Sanya International Friendly Chinese Medicine Sanatorium in Hainan Province in June. (GUO CHENG / XINHUA)
Packages emphasize slow pace, not pressure-packed sightseeing schedule
Tour packages and destinations highlighting health enhancement have emerged as popular choices for Chinese travelers, according to a report by the China Tourism Academy released on Friday.
So-called health tourism includes things related to medical treatment and staying well and featuring traditional Chinese medicine, according to Zhu Haidong, director of the international cooperation department of the State Administration of Traditional Chinese Medicine.
Zhao Zihe, researcher at the tourism academy, said health tourism emphasizes slow-paced activities, pressure release and health preservation rather than a tight sightseeing schedule common with traditional tourism.
Chinese visitors bound for Hong Kong, Macao, Taiwan or foreign countries for health reasons represented 2.2 percent of all outbound visitors in 2017. And the number is expected to increase this year, the report said.
More than 2 million Chinese traveled overseas to wellness centers or for massage and yoga exercises in India and Thailand last year, the report said.
Japan, Thailand, South Korea and the United States are listed as the top destinations for travelers from the Chinese mainland. They also go to Taiwan.
Health tourism has also boomed on the Chinese mainland over the past few years, the report said. Online travel services provider lvmama.com said that Guilin, Guangxi Zhuang autonomous region, and Haikou, Hainan province, are the most popular mainland travel destinations in the health market due to their agreeable climates and advanced medical equipment.
Traditional Chinese medicine and therapies such as acupuncture and massage - as well as exercise, such as tai chi - also help attract foreign visitors and travelers from Hong Kong, Macao and Taiwan to the Chinese mainland, the report said.
About 2 percent of visitors from Hong Kong and Macao sought traditional Chinese therapies in 2017, while 0.9 percent of foreign travelers to the Chinese mainland bought tour products focusing on TCM last year, according to the report.
Huang Luqi, vice-president of the China Academy of Chinese Medical Sciences, believes the future of China's health tourism is bright, especially for TCM.
"Tour programs for TCM services are a new pattern combining Chinese culture and TCM industries. It will benefit travelers both physically and psychologically by maintaining wellness through traditional medical practices - acupuncture, for example."
Zhang Dongping, a researcher at lvmama.com, said health tourism products will drive the development of a quality tourism market because travelers motivated by health require much higher quality services than other tour products.