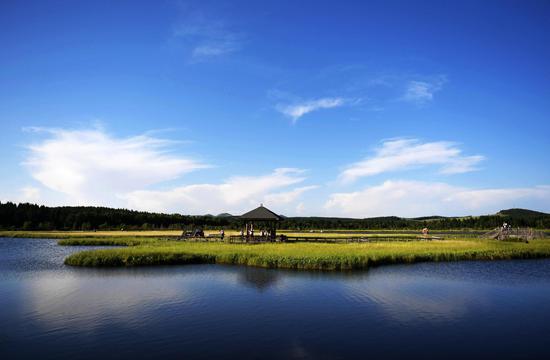 Tourists visit the Qixing Lake Scenic Area of Saihanba National Forest Park in north China's Hebei Province, July 11, 2017. (Xinhua/Wang Xiao)
China announced Sunday it has launched a plan to better monitor and control smog at key regions through satellite remote sensing.
The Ministry of Ecology and Environment said a grid network to monitor the density of PM 2.5, a major pollutant in atmosphere, will gradually cover Beijing, Tianjin and 26 cities in nearby provinces, 11 cities on the Fenhe and Weihe river plains, as well as 41 cities on the Yangtze River Delta.
With technologies including remote sensing, authorities in the Beijing headquarters can discover environmental problems in faraway regions quickly and direct immediate actions, according to Zhao Qunying, an official in charge of environmental supervision at the ministry.
"This can improve the efficiency of regulation and address the problem of inadequate enforcement personnel for the broad regions under scrutiny," Zhao said.
Regions covered by the network will be divided into grid units each measuring 3 km by 3 km. The units with relatively high density of PM 2.5 are listed as key areas to watch.
By October, Beijing, Tianjin and nearby cities will be included into the network. Cities on the Fenhe and Weihe river plains will be covered starting from October, while those on the Yangtze River Delta will be covered from February 2019, according to Zhao.