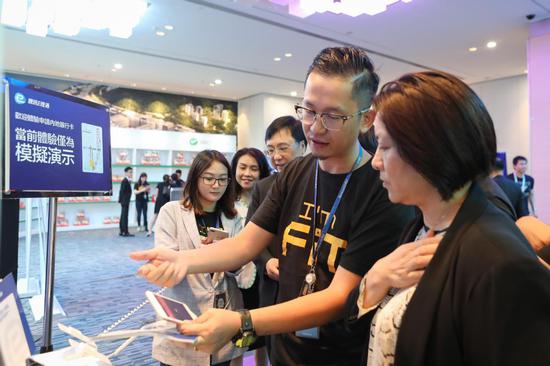 Hong Kong residents try Tencent's new online service to apply for mainland's bank cards. (Photo/China News Service)
Residents of Hong Kong, Macao and Taiwan who have lived on the Chinese mainland for longer than six months will be able to apply for mainland residence permits from the start of next month, improving their access to public services on the mainland.
The permit card, which can be read automatically at electronic terminal devices in places such as railway stations, airports and banks, will make studying, working and living on the mainland easier, the Ministry of Public Security said in a statement on Thursday morning.
Under the new rule, applicants who have stable jobs and accommodation or who are studying on the mainland can apply at local security bureaus with their mainland travel permit cards and related materials and get a mainland residence permit in about 20-30 working days.
The cards will grant those studying or working on the mainland roughly the same treatment as mainland residents in employment, social security, medical and legal services, vehicle license applications, hotel and travel ticket booking, and many other fields, Vice-Minister of Public Security Shi Jun said.
Applicants will not need to have mainland hukou— a permanent residency certificate — or give up their residency and welfare entitlements in Taiwan, said Long Mingbiao, deputy director of the State Council's Taiwan Affairs Office.