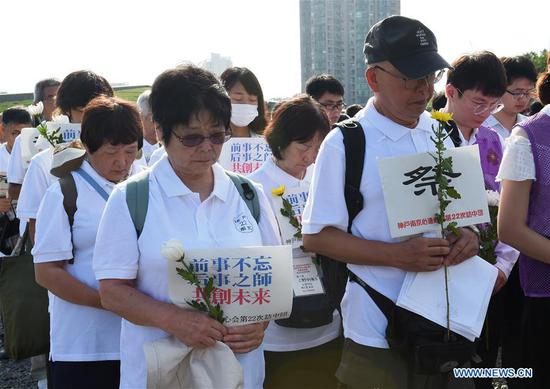 Members of a visiting Japanese delegation pay tribute to the victims in silence at The Memorial Hall of the Victims in Nanjing Massacre by Japanese Invaders in east China's Jiangsu Province, Aug. 15, 2018. (Xinhua/Sun Can)
A peace assembly was held Wednesday in Nanjing, capital of east China's Jiangsu Province, to commemorate the 73rd anniversary of Japan's unconditional surrender in World War II.
Representatives from countries such as China, Japan, the United States, and Thailand attended the event held in the Nanjing Massacre Victim's Memorial Hall, mourning the 300,000 people who were killed in one of the most barbaric episodes of World War II.
Japanese invaders slaughtered about 300,000 Chinese during a six-week rampage after they captured the city, then China's capital, on Dec. 13, 1937.
Members of an anti-war NGO based in Japan's Kobe laid wreaths and paid tribute to the victims in silence. It was the 22nd time the group had attended the peace assembly in Nanjing.
"We choose to come to China to mark the event because Chinese people were the victims of the war and they deserve tribute and remembrance," said Miyauchi Yoko, head of the group.
"Ordinary people suffer the most in times of war," said a student from Thailand. "Everyone should make contributions to world peace."
Ge Daorong, a survivor of the massacre, was only 10 years old when Nanjing fell to the Japanese invaders.
During the massacre, he and his close family took refuge in a safety zone and survived the onslaught, but his three uncles did not.
"We look back at the sad episodes of history in order to cherish today's peace," Ge said at a forum held after the assembly.