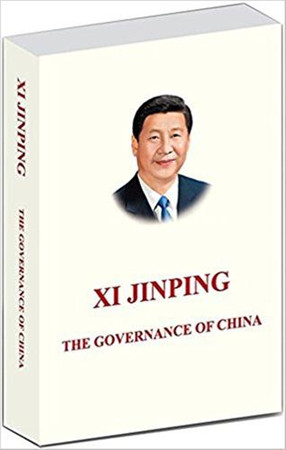 5b74c380a310add1c6971c55_副本
A showcase specially devoted to the translated versions of President Xi Jinping's works, including the two volumes of Xi Jinping: The Governance of China, is attracting readers' attention during the 2018 Shanghai Book Fair, which opened at the Shanghai Exhibition Center on Wednesday.
At the showcase, readers can get a look at the first volume of Xi's book in 24 languages and the second in nine languages.
Wang Wei-cheng, 21, a law student from Taiwan who is working as an intern in Shanghai, said when he walked out of the fair's central area, he immediately saw the showcase at the 300-square-meter booth of China International Publishing Group.
He said he was intrigued by Xi's book being published in so many languages.
This year, the 15th anniversary of the founding of Shanghai Book Fair, is the first time China International Publishing Group has taken part.
Lu Cairong, deputy chief of publishing group, said that over the past 15 years, the fair has grown into one of the most influential in China. Readers attending the fair can purchase and take home books and other items.
"Since its publishing, Xi Jinping: The Governance of China has received extensive attention from home and abroad. It's a must for any major international book fair. So here in Shanghai, by displaying all the translated versions of this important work, we hope it will become closer to readers," he said.
"With the important works about President Xi's thoughts displayed here, we want to help readers better understand how these thoughts have been developed," he said.
The first volume of Xi's book was first published in September 2014 and the second in November 2017.
Over 6.6 million copies of the first volume have been sold, including more than 500,000 copies in foreign languages, and about 13 million copies of the second volume have been sold, said Liu Yuhong, an editor from Foreign Languages Press, which is in charge of international publishing deals for the book.
New book issued
Also on Wednesday, Xinhua News Agency reported that a book of excerpts from discourses on poverty alleviation by Xi, also general secretary of the Communist Party of China Central Committee, has been published by the Central Party Literature Press.
The book, which will be distributed across the country, was compiled by the Party history and literature research institution of the CPC Central Committee and the State Council Leading Group Office of Poverty Alleviation and Development.