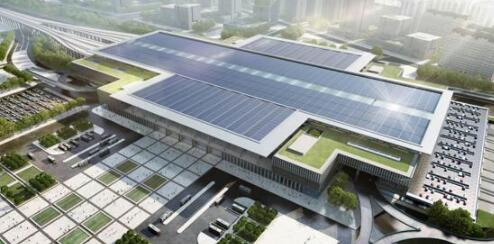 A rendering of the new Fengtai Railway Station. (Photo from the web)
The reconstruction work on Beijng's Fengtai Railway Station, the capital's oldest, has recently begun, and it is expected to result in Asia's largest railway station, the peoplerail.com reported on Tuesday.
Authorities have diverted the Beijing-Guangzhou railway line, which normally passes through the station, as of Monday night to facilitate the new construction.
Dating back to the year 1898, the Beijing Fengtai Railway Station, located at Zhengyang Avenue in Fengtai District of southern Beijing, used to be a small comprehensive railway station incorporating passenger trains and freight trains.
The station has been closed for passenger service since June 2010, ending a running history as long as 115 years.
According to its contractor China Railway Construction Engineering Group, the new station will have seven floors with four floors aboveground and three floors underground. Covering an area of 398,800 square kilometers, it will accommodate a maximum of 14,000 passengers. Subway lines 10 and 16 will be linked to the station to bring more convenience to travelers.
The reconstruction work is set to finish in 2020, when the railway station is expected to become the biggest in Asia and a major transportation hub. It will serve high-speed trains on the Beijing-Guangzhou, Beijing-Kowloon and Beijing-Shijiazhuang lines, and will provide suburban railway services.
The station will also help ease the capital's traffic burden, facilitate transportation to Xiongan New Area, and better promote the integration of the Beijing-Tianjin-Hebei region.