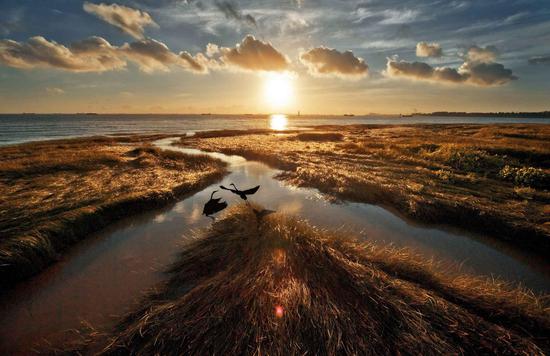 Waterfowl seen in Wusong Paotaiwan Wetland Forest Park, Shanghai /Photo via the Publicity Department of the CPC Shanghai Committee
Special: Yangtze River Economy
At the confluence of the Yangtze River and Huangpu River in east China's Shanghai lies Wusong Paotaiwan Wetland Forest Park. Wusong is a subdistrict in Shanghai, and Paotaiwan means a battery bay, for there used to be a coastal fort.
The park stretches for about 2,250 meters along the river bank and covers an area of 106.6 hectares, with over half devoted to wetland areas. However, decades ago, steelworks were based in the area and steel slag was piled up everywhere, heavily polluting the area.
The local government began developing the area in 2005. Two years later, the first stage of the construction was completed and the park has since been open to the public. The second part was completed in October 2011.
To restore the natural beauty of the area, staff members planted bulrush, typha and lotus in the lowland and ponds. According to Gu Lihua, a member of staff at the park, those aquatic plants not only look nice, but they also help purify the water.
An ideal place for birds
After years of ecological restoration, wetlands now cover the former mudflats, and trees stand where steel slag used to be. The place has thus become an ideal place for birds to dwell.
Figures show there are 144 kinds of birds in the riverside wetlands, 10 types of which are under the second-grade state protection.
"It was heavily polluted in the past. People rarely came by the river side," said Wang Younong, chairman of Shanghai Wusongkou International Cruise Terminal Development Co., Ltd.
"Now, you can see many enjoying their evenings here," Wang added, referring to people coming to the park to walk, cycle and dance.
A boost to economic development
"With a better ecological environment, the city's infrastructure, like its transportation, is also improving," said Zhu Zhongwei, director of local development and management commission. "The robotic, automobile and software industry have all been drawn here. Some of them even set their Chinese headquarters here. Tourism also got a boost."
Zhu added, "What's happening here proves a good eco-environment will benefit economic environment."