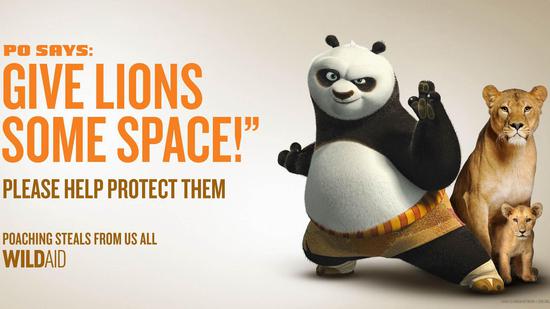 Lions also known as King of Jungle population has declined by nearly 50 percent in African countries. /WildAid Photo
Po might be the clumsiest Panda tickling funny bones in the animated Hollywood flick, Kung Fu Panda, but in a series of short videos, he is raising awareness about a rather serious issue -- poaching of endangered animals including big cats and elephants.
The video series released today by WildAid and DreamWorks aims at public understanding in China including its Hong Kong Special Administrative Region (HKSAR) and Taiwan region, as well as in Vietnam, Thailand, South Africa, the US, and globally, about the urgent threats these animals face due to poaching.
The release comes hot on the heels of World Lion Day on August 10 and World Elephant Day on August 12. In the last 21 years, massive poaching and habitat loss has decimated the lion's population by nearly 50 percent in Africa.
Concerned over the population decline, the International Union for Conservation of Nature (IUCN) placed "king of the jungle" under the vulnerable category and regionally extinct in African countries.
Recent studies claim that habitat loss, loss of prey, wildlife conflict and excessive trophy hunting are behind the decline in the number of lions.
WildAid's awareness campaign focuses on children to "influence" their parents to discourage consumption and trade of endangered wildlife. "We've seen children persuade grandparents to stop eating shark fin soup or using rhino horn," said Peter Knights, WildAid CEO.
"Children love animals, and they are quick to see the injustice of what is happening to them through wildlife trafficking. They can be very influential in pushing older generations to change their bad habits."
According to WildAid, the recent ban on ivory by China and its HKSAR and Taiwan region has crashed ivory prices by two-thirds and dramatically decreased poaching in Kenya and Tanzania.
The decision has also put a pressure on European countries and Japan to initiate similar action. The UK recently announced the world's strictest ivory ban.
Wildlife protection groups claim that more than 20,000 African elephants are brutally killed for ivory every year. According to IFAW estimates nearly 1,500 rhinos were poached for their horns in 2015 alone.
Government's action and awareness campaigns about illegal wildlife trade are witnessing unprecedented public support. "More than 95 percent of Chinese surveyed, support the government's action to end the ivory trade," a WildAid survey maintained.
Another survey by a group of wildlife protection organizations revealed shark fin imports to China fell by 80 percent during 2011-2014. The wholesale shark fin sales in Beijing, Shanghai, and Guangzhou also crashed by 80 percent during the same time period.
In the video series, Po asserts that "poaching steals from us all." Elephants are poached for their ivory, rhinos for their horns, lions, and tigers for their bones and skins, and pangolins for their scales and meat.