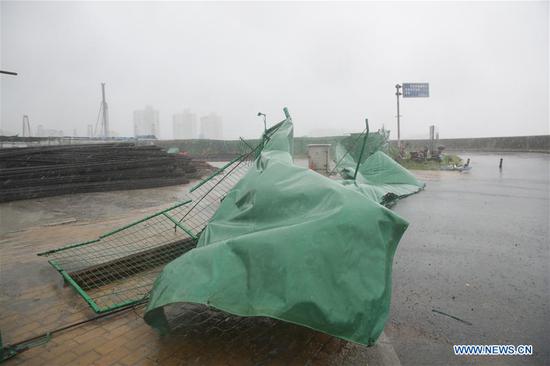 Fences are blown down by wind at Wusongkou International Cruise Terminal in Shanghai, east China, July 22, 2018. (Xinhua/Ding Ting)
Typhoon Ampil has weakened after it made landfall in east China's coastal region, the country's national observatory said Sunday.
Ampil, this year's 10th typhoon, made landfall in Shanghai at noon Sunday, packing winds of up to 28 meters per second, the National Meteorological Center (NMC) said in a statement.
At 5 p.m., the eye of Amphil was in Rudong County, Jiangsu Province. The tropical storm is now moving northwestward at a speed of 5-7 meters per second, and will reach east China's Shandong Province around Monday noon, triggering a blue alert at 6 p.m. Sunday.
China has a four-tier color-coded weather warning system, with red representing the most severe weather, followed by orange, yellow, and blue.
Over 387,000 people in Shanghai, Zhejiang and Jiangsu were evacuated, and 41,400 ships returned to ports before the typhoon hit Shanghai, the State Flood Control and Drought Relief Headquarters said.
The headquarters launched an emergency response to the typhoon and flooding on Friday and sent 15 working groups to assist local authorities.
Ampil made landfall on the island of Chongming in Shanghai at 12:30 p.m. Sunday, the municipal meteorological observatory said.
The island, 45 km east of downtown Shanghai, is at the mouth of the Yangtze River.
The Shanghai municipal flood control headquarters said it had relocated a total of 190,000 people from coastal areas by early Sunday morning.
As of 8 p.m. flights at Shanghai's Pudong and Hongqiao airports were resuming gradually after more than 350 flights were cancelled due to bad weather. Most of high-speed train services in Shanghai were also suspended on Sunday.
Shanghai Disney Resort said earlier Sunday that it operates normally, but will suspend some outdoor attractions and performances during periods of heavy rain or high winds. Shanghai Tower, the tallest building in China, has suspended rooftop sightseeing.