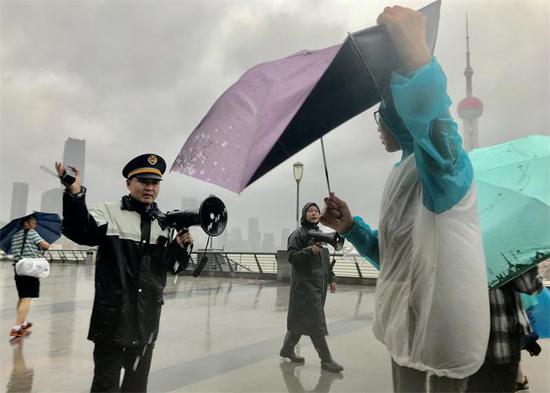 Authorities urge visitors at the Bund in Shanghai to leave for safer places on Sunday. Ampil, the 10th typhoon of the year, hit coastal areas of China with heavy rain. (LIU XIN / FOR CHINA DAILY)
Urban life and traffic gradually returned to normal in Shanghai on Sunday, soon after the city was hit, for just the third time since 1949, by a typhoon that made landfall directly from the sea.
Typhoon Ampil, the 10th typhoon of the year, made landfall on Chongming Island at 12:30 pm on Sunday, packing winds of up to 100 kilometers per hour near its eye, the municipal meteorological observatory said.
The island, 45 km east of downtown Shanghai, is at the mouth of the Yangtze River.
As Ampil weakened and moved northwest into neighboring Jiangsu province, Shanghai lifted the orange alert for the typhoon at 4 pm on Sunday.
Skies began to clear in most parts of the city early on Sunday afternoon, and cicadas resumed chirping in the humid heat.
City traffic, which was affected due to closure of some tunnels and expressways and temporary speed limits on certain expressways and bridges over the Huangpu River on Sunday morning, has since returned to normal, the municipal government said on its WeChat account.
All bus operations between the city's downtown and Chongming Island were restored at 2:10 pm, but all ferry lines remained closed at press time.
Operations at the city's two airports, at which more than 500 flights had been canceled and dozens more delayed on Sunday morning, also gradually picked up, according to the airports.
Ampil was the 11th typhoon to make landfall in Shanghai since 1949.
The most recent one was Fung-Wong in 2014, which made landfall in the city's coastal Fengxian district.
Most of the 11 typhoons made their first landfall in neighboring Zhejiang province.
The two others that hit Shanghai directly from the sea occurred in 1977 and 1989.
Since Saturday, Ampil had brought downpours and gusty winds to China's eastern coast, triggering alerts in the region, especially in Shanghai and Zhejiang province, where tens of thousands of people were relocated.
As of Sunday morning, Shanghai had relocated nearly 20,000 people living along the coast, as well as in temporary housing and at construction sites, to safe places, including school campuses and community centers, according to the city's flood control headquarters.
In addition, in neighboring Zhejiang and Jiangsu provinces, more than 42,500 people were relocated.
More than 28,000 ships and boats, including 22,900 fishing boats, returned to port in Zhejiang.
Despite the storm's weakening impact, Shanghai's weather authority warned of possible rains and strong winds continuing through Monday in some parts of the city.
However, sunny skies and temperatures of up to 37 C were expected in the city in coming days.