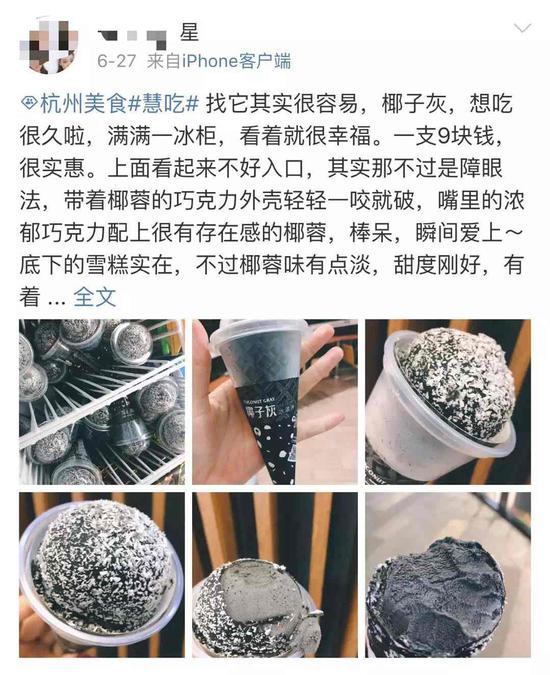 Chinese netizens share photos of the black ice cream on China's Twitter-equivalent Weibo. /Photo via Shanghai Morning Post
No more "black-colored ice cream" could be found in New York City because the city's Department of Health (DOH) has banned any food and drinks contained activated charcoal, an ingredient that might cause constipation and affects birth control. However, a similar ice cream is still a hot product in the Chinese market thanks to social media influence.
Coconut Ash, a black-colored ice cream that has always been a summer trend in New York City since 2016, has become so popular among Chinese consumers recently due to its unique ink-colored appearance and finest taste.
As many Chinese netizens shared photos of the black ice cream on social media, the product soon gained wide popularity in the country, attracting more and more people to try it.
But the trendy product, which mainly gets its dark color from the activated charcoal, has been pulled off from shelves in New York City in June, where this ice cream originated.
According to a statement released by the city's health department, activated charcoal was not allowed to be used in any food and drinks since it was "prohibited by the US Food and Drug Administration (FDA) as a food additive or food coloring agent," reported the Eater.
Activated charcoal, also known as activated carbon, is a kind of black powder that is made from bone char, coconut shells, sawdust and coal and has been widely used in coconut ash ice cream, pizzas and cocktails.
For decades, activated carbon has been used in hospitals for patients as a detoxifier to prevent an overdose of drugs. The ingredient is an adsorbent that can absorb toxins from the stomach and can also absorb drugs, including contraceptives.
However, evidence shows that having too much of it could make the medication less effective and even cause constipation and dehydration, according to a petition posted in October last year, calling for an end to activated charcoal in New York City, which had been signed by 20,000 supporters in two weeks.
After the city banned the use of activated charcoal in food and drinks, Morgenstern's Finest Ice Cream, a Manhattan-based shop that sold the trend product, was forced to throw out the activated charcoal that worth more than 3,000 US dollars.
Nevertheless, it seems that the ban has not brought any influence to the product selling in the Chinese market.
In China, the black ice cream could be found in many ice cream shops and convenient stores, which only cost 9.9 yuan (1.5 US dollars) each. Despite the product was advertised for its activated charcoal, this ingredient could not be found in the list of ingredients on the package.
According to a manufacturer of the product, the ingredient they used in the ice cream was edible vegetable carbon rather than activated charcoal.
The vegetable carbon is a food additive as well as a coloring agent that could be used in frozen drinks no more than five gram per kilogram, according to the Chinese standards for the use of food additives.
However, merchants in China advertised the healthy effect of the activated charcoal in the product, which could help eliminate toxins in the body and improve digestion and even bring a cosmetic result.
But the manufacturer later denied the effect of the activated charcoal in the product and said that it was the coconut in the ice cream that brought health effects to the human body, reported Shanghai Morning Post.
Gu Chuanling, a Chinese registered dietitian, said that she didn't suggest the use of activated charcoal in food, because the primary purpose of it in the food industry was to adsorb food impurities and color rather than directly add into the food as an ingredient, reported Shanghai Morning Post.
An activated charcoal expert from Chinese Academy of Forestry added that the cost of activated carbon was higher than that of edible carbon black, so it was not necessary for manufacturers to use activated carbon to dye the food in black.
The use of activated charcoal in the black ice cream has gained much attention on Chinese social media and has triggered a heated debate among netizens.
"Why not use black sesame powder instead? It is really nutritive and can also bring a smoother taste to the ice cream," commented a user @xuwenyuzhong on WeChat.
"Whenever I meet any food tagged with 'trend,' I will never try it," said a user @faxuekedaibiao on WeChat.