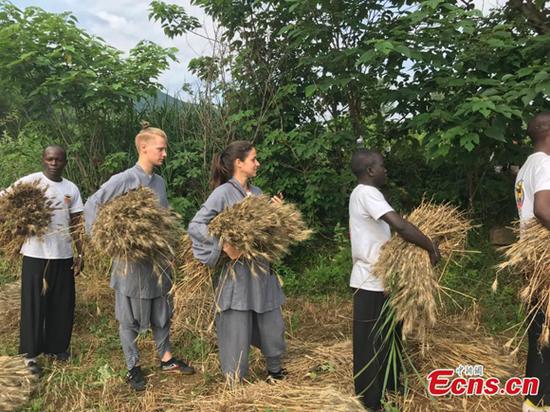 Disciples from the Shaolin Temple harvest wheat at a farm in Dengfeng, Henan Province, June 21, 2018. A total of 120 mu, equivalent to eight hectares, of farmland was planted with wheat this year. (Photo: China News Service/Han Zhangyun)
A global recruitment campaign has been launched to offer foreigners unique job experiences in China.
The positions include kung fu apprentice at the Shaolin Temple, giant panda caretaker, high-speed train maintenance staff, trash collector at Zhangjiajie national forest park, acting dean of Yuelu Academy, beef noodle chef, truck driver on the Qinghai-Tibet highway and experiencer of the cash-free society.
The campaign was launched by global employment-oriented social-networking platform LinkedIn, and the "I'm in China" project aims to promote Chinese culture and history.
Registration for these positions are open to LinkedIn's 520 million overseas members for six months.
"These jobs feature popular symbols and elements of Chinese culture and society and will help foreigners to see an open, diverse and inclusive China," said Billy Huang, marketing and public relations director at LinkedIn China.
An increasing number of foreigners are coming to China to seek career development as the country's economic growth offers abundant opportunities.
A previous LinkedIn report showed that Beijing, Shanghai, Shenzhen, Guangzhou and Hangzhou are the top five cities drawing attention from overseas users.