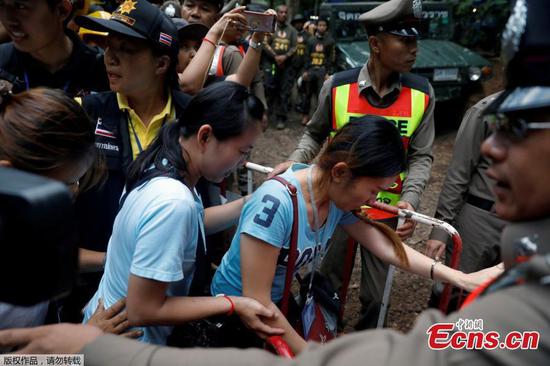 Family members are escorted by police on their way to enter the Tham Luang cave complex, as members of an under-16 soccer team and their coach have been found alive according to local media, in the northern province of Chiang Rai, Thailand, July 4, 2018. (Photo/Agencies)
Now that 12 Thai boys and their football coach have been found alive in an underground cave after going missing for over a week, a new ordeal begins: figuring out how to get them out and taking care of their physical and mental well being as they face weeks or even months of waiting.
Food
The trapped boys – aged 11 to 16 – went nine days without food before they were found.
They have now been given a gel with high calorie and mineral content to sustain them while rescue plans are being worked out.
Sura Jeetwatee, a doctor involved in the operations, said the team survived by staying put and drinking water that dripped from stalactite formations.
A statement from Thailand's Armed Forces on Tuesday said the boys will be given enough food to sustain them for at least four months.
Health
Without food and with little movement for more than a week, the boys are in a weakened physical condition and getting them fit again will be a key part of the rescue effort.
A video published on the Thai Navy SEAL Facebook page on Wednesday showed members of the junior football team giving traditional Thai greetings to the camera and saying "I'm in good health."
The team have been handed basic medicine and foil blankets to keep warm, and seven Thai Navy SEAL members, including a medic and a counselor, are staying with them in the cave for support.
But if their ordeal is prolonged, key concerns will include preventing malnutrition and muscle atrophy from lack of movement, as well as infections and disease from the damp cave and possibly contaminated floodwaters, experts say.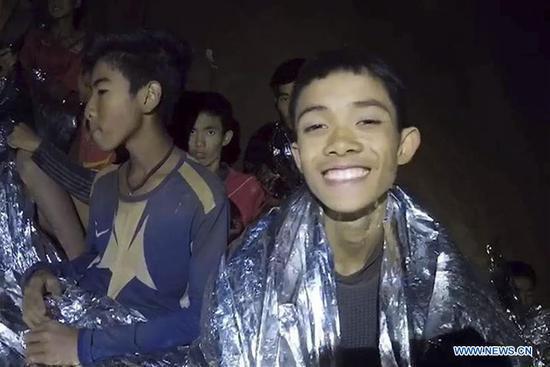 Trapped young footballers are seen in the cave in Chiang Rai, Thailand, July 4, 2018. (Xinhua)
Communication
Technicians have been working to install a telephone line to maintain communication between the boys in the cave and the outside world. This will allow the boys to talk to their parents and families, Rear Admiral Apakorn Yuukongkaew, commander of the Thai Navy SEALs, said.
Mental health
Experts have warned that the toughest challenge for the boys might be mental.
Omar Reygadas, one of 33 Chilean miners rescued in 2010 after spending 69 days trapped underground, told AP he and his colleagues survived in part by keeping up good spirits – "singing, telling jokes, doing a lot of clowning around" – and keeping faith that they would eventually get out.
"My advice for the youngsters is to be firm, to focus on their rescue, to only think that they will be out to reunite with their families; to help each other, to see who is weaker, who has more doubts, and to help him," said Reygadas.
"Being scared is normal. To not be embarrassed to be afraid because we were also scared, we also shed tears, us being adult men, we cried."
Rescue scenarios
A number of solutions are being considered to get the boys and their coach out of the cave safely.
The safest option would be to wait for the water inside the cave to recede, according to experts, but the monsoon season has only begun, meaning the rain could not let up for months, leaving the boys trapped in their dark, humid cave.
Another option would be to find another entry into the cave or drill a hole to extract the team, but this would also take time.
Diving lessons
The most talked-about option involves teaching the boys and their coach how to dive so they can make their way back out through the flooded tunnels.
But it took trained rescue divers six hours to navigate the complex system of tunnels, and Tham Luang cave is one of the longest in Thailand – about nine kilometers long – with the boys holed up about four kilometers from the entrance.
There are also additional challenges: the boys reportedly don't know how to swim, let alone use diving equipment. If they were to panic under water, they might put their life and other people's lives in danger.
According to Andrew Watson, of the UK Mine Rescue Service: "The minimum requirement to train someone just in the breathing apparatus would be three days."
On Wednesday, officials said the boys had already practiced wearing diving masks and breathing. But the circumstances will nevertheless be extreme, according to Watson, with novice divers, weak from hunger, having to navigate through murky, moving water.
When will they get out?
Officials have dismissed rumors that the rescue mission could last up to four months.
But Navy SEALs commander Yuukongkaew said the rescuers would not rush things. "The kids are well in there. We don't need to hurry."
(With input from agencies)