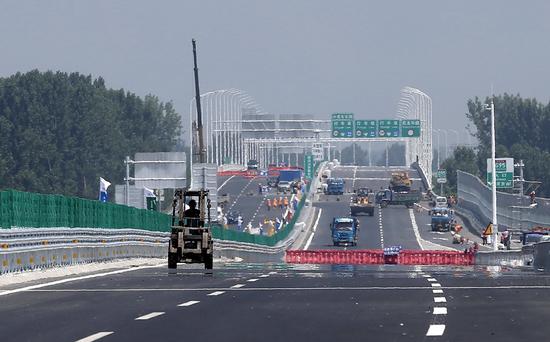 Work on a section of the Capital Region Ring Expressway finishes up in Beijing on Wednesday. (PHOTO/CHINA DAILY)
Construction of the Capital Region Ring Expressway, a road of about 1,000 kilometers linking Beijing and nearby cities, was completed on Wednesday.
The project is expected to improve air quality and boost economic growth in the capital as well as the wider Beijing-Tianjin-Hebei region.
The final piece of the ring road-an expressway named G95-linking the capital's Tongzhou and Daxing districts, will open to vehicles soon.
Since Beijing already had six ring roads, the public dubbed the new expressway the "Seventh Ring Road". However, only 38 kilometers of the expressway will actually pass through Beijing, with another 38 km in Tianjin and 924 km in Hebei province.
Jing Yanhui, deputy general manager of Beijing Capital Ring Expressway Co, which is in charge of the management and construction of the 38 km of expressway in the Beijing area, said the major goal of the new expressway in Beijing is to attract trucks and other large delivery vehicles from the Sixth Ring Road to the new one.
"This will ease traffic congestion and reduce pollution," he said.
He expected that by the end of this year, the traffic flow of the new ring expressway in Beijing area will reach 10,000 vehicles per day.
In addition, the new expressway will save 150 km from Chengde, Hebei, to the new airport under construction in Daxing, he said.
According to a report by China Newsweek, research led by Chen Yanyan, head of the Beijing University of Technology's Metropolitan Transportation College, showed that around 3,200 trucks passed through Beijing on the Sixth Ring Road every day during the first week of April.
This accounted for just 32 percent of the trucks entering the capital, which means three out of 10 trucks using Beijing's Sixth Ring Road are not headed for the city but are still contributing to its carbon emissions and traffic congestion.
Up to 53 percent of vehicles-including private cars and trucks using the Sixth Ring Road-just pass the capital instead of going into the city, the research found.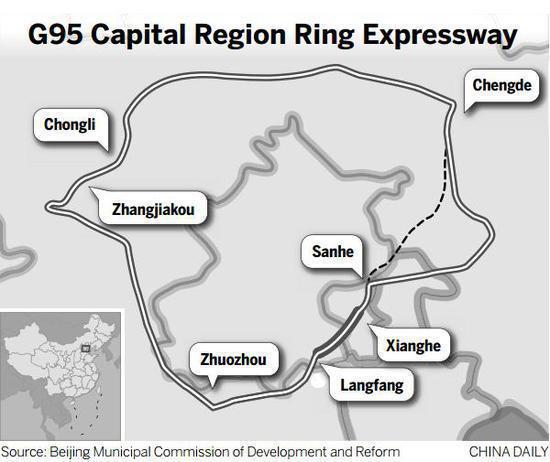 The expressway, which would look like a huge necklace from the air, links 13 major cities around Beijing, including Chengde, Langfang, Gu'an and Chongli, and will improve the transportation network of the Beijing-Tianjin-Hebei area.
Since the country approved the integrated development strategy of the area in 2014, this regional ring expressway has become much more significant, Chen said.
"Only when the transportation network develops can the whole region's economy grow effectively," Chen was quoted in the report.