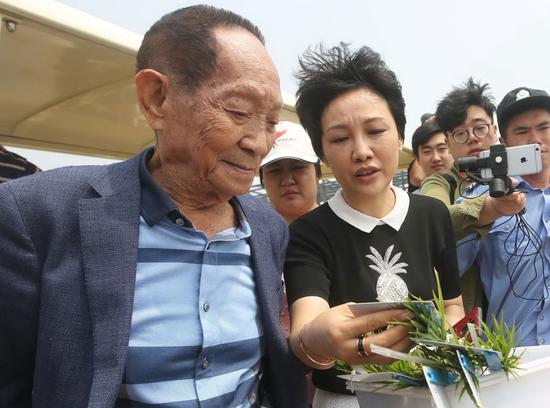 Yuan Longping, China's "father of hybrid rice", checks saltwater rice seedlings before they are planted in Qingdao, Shandong province, on Monday. (Photo provided to China Daily)
Renowned Chinese agricultural scientist Yuan Longping and his research team planted saltwater-tolerant rice on six plots of saline-alkali land on Monday.
It was the first time this kind of rice has been planted simultaneously on different types of such land, a major step in exploring its commercial viability.
The planting sites are in Kashgar, in the Xinjiang Uygur autonomous region; Daqing, Heilongjiang province; Dongying and Qingdao, Shandong province; Wenzhou, Zhejiang province; and Yan'an, Shaanxi province. The sites represent virtually every type of saline-alkali land in China.
So-called saltwater rice is designed to grow in tidal flats or other areas with heavy salt content.
"These planting practices aim to test saltwater rice's performance, yield, taste and cost when grown on different types of saline-alkali land," said Zhang Guodong, deputy director at the Qingdao Saline-Alkali Tolerant Rice Research and Development Center in Shandong province.
The center, led by Yuan, China's "father of hybrid rice", was founded in 2016 to help expand the farming of salt-tolerant varieties of rice.
Zhang said researchers and planters applied several methods based on the Internet of Things, big data and artificial intelligence, and tried to improve productivity and land use.
Besides testing saltwater rice's performance, the six saline-alkali areas have different orientations.
For example, in Kashgar, poor families from ethnic groups have been organized to plant seawater rice to help poverty alleviation.
In Dongying, saline land is expected to provide crops to support civilian-military integration.
The six plots are expected to become fertile land in two or three years, and other saline lands will be used to examine saltwater-tolerant rices species.
Zhang said the center had joined with the China National Hybrid Rice R& D Center, as well as 18 other research institutions and enterprises, to establish a working group to examine the test results.
China has 100 million hectares of saline-alkaline soil.
Yuan and his team plan to develop a type of saltwater rice that can be planted on 6.7 million hectares of saline-alkali land around the country, which they estimate can yield 30 million metric tons every year, feeding an additional 80 million mouths.
In September last year, the Qingdao demonstration center harvested four types of saline-alkali rice, with the highest yield reaching 9.3 tons per hectare, much higher than expected.
Yuan's team also estimated the results of experimental planting of saltwater rice in desert areas of Dubai in the United Arab Emirates. One type is expected to yield more than 7.5 tons per hectare.
The Chinese team started planting the rice in January. The harvest is expected to take place in late June.