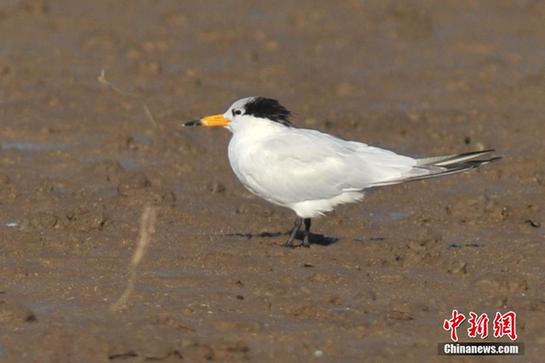 A Chinese crested tern forages in the wetlands of Jiaozhou Bay in Qingdao, East China's Shandong province. [Photo/Chinanews.com.cn]
The Chinese crested tern, the world's most endangered tern species, is in danger of hybridizing with a sister species because of its small population, said Chinese ornithologists.
The hybridization of two closely related species may erode their gene pools and accelerate the rate of the rare bird's extinction, said Chen Shuihua, deputy director of the Zhejiang Museum of Natural History in East China's Zhejiang province.
He said the museum and two other Chinese institutes have collected non-invasive DNA samples from five Chinese crested terns for genetic conservation studies, as they have observed that hybridization is likely to occur between the rare bird and its more abundant cousin, the great crested tern.
The white migrating bird with a black beak was first spotted in 1861, and has remained small in number, listed as "critically endangered" by the IUCN Red Data Book with fewer than 100 individuals globally.
Chen said that at all of the bird's breeding sites in the Chinese mainland and Taiwan, nests of the Chinese crested tern were found within great crested tern colonies.
He said although the two species are members of the same Sternini tribe, they diverged about a million years ago.
The scientist said hybrids are difficult to identify. Only molecular genetic analysis can provide reliable identification and determine the extent of interbreeding between the species. But if the hybridization continues, the bird will eventually lose its natural appearance, as its white feathers evolve into gray ones like those of the great crested tern.
Since 2013, Chen's team has started to use artificial means to attract the wild birds to breed on conservation islands in Ningbo city, Zhejiang, in order to increase the success rate of pure breeding. By the end of 2017, 51 more of the rare birds had been born at the sites.
The team's research paper was published in the latest issue of the international ornithological journal IBIS.