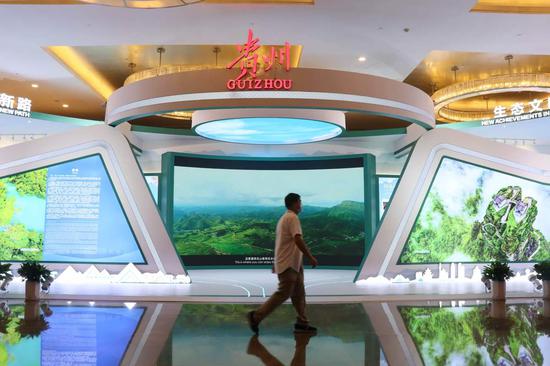 Participants visit exhibitions on the sidelines of the Eco Forum Global Guiyang 2023, which opened on Saturday in Guiyang, Guizhou province. BY WANG JIN/China Daily
Eco Forum Global Guiyang, China's only national-level global forum focusing on ecological civilization, has become a showcase of the country's sweeping ecological conservation efforts and an important vehicle for global exchanges in the area, said Governor of Guizhou Li Bingjun.
The forum opened on Saturday in Guiyang, the provincial capital. Li said he wished the forum this year, whose theme was "Pursuing modernization of harmony between humanity and nature – promoting green and low-carbon development", can serve as a starting point for more international environment-conserving collaborations, and help accelerate a type of modernization that prizes human-nature coexistence.
"Let's make greater contributions to build a cleaner and prettier world," he said while addressing the forum's opening ceremony.
The two-day event will feature a series of events including exhibitions, field studies and contract-signing ceremonies for a host of projects in renewable energy and eco-friendly materials, among other fields.
Authorities in Guiyang hosted its first such forum in 2009, and in 2013, the event emerged as an international convention with a focus on promoting ecological civilization.
Over time, the meetings have become a platform to forge global partnerships and exchanges in environmental protection, curb carbon emissions and fight climate change.
The forum, attended by more than 2,500 government officials, diplomats, business leaders both online and offline, serves as an important avenue for promoting ecological civilization, which highlights the harmonious coexistence between humanity and nature.