Months after retiring from China's COVID-19 front line, a 5G-connected computer sits quietly in an exhibition hall in southeastern China's Fujian Province. The computer, which is mounted on wheels for ease of transport, shows real-time images of an intensive-care unit at a local hospital.
At the peak of the country's coronavirus outbreak early this year, over 100 such 5G-powered trolleys buzzed around quarantine wards in the province, allowing medical experts to conduct face-to-face consultations with patients without having to enter the wards personally.
The province's COVID-19 telemedicine center said the trolleys and other digital technologies helped top medical experts perform 1,700 remote consultations in Fujian, especially at many lower-level hospitals that lack the capacity or expertise to diagnose and treat the new respiratory disease.
"We also employed artificial intelligence (AI) to screen CT images before they reached physicians. Each patient would have hundreds of CT images, so the use of AI saved us a lot of time," said Cheng Xuesong, an information technology engineer with Fujian Provincial Hospital that houses the center.
China on Monday opened the third Digital China Summit in Fuzhou, capital of Fujian, to shed light on many such digital technologies, which have been widely used in the anti-virus battle and the country's economic and societal development.
The summit, which runs from Oct. 12 to 14, aims to build platforms for industry exchanges and cooperation. Exhibitions and forums will be held on the development and application of digital technologies, including AI, big data and blockchain. Tech giants such as Huawei, Alibaba and Tencent are expected to exhibit their cutting-edge products.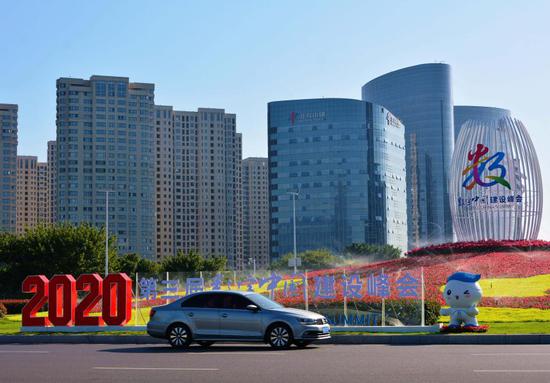 A flowerbed is seen in front of the Fuzhou Strait International Conference & Exhibition Center, the main venue for the Digital China Summit, in Fuzhou, southeast China's Fujian Province, Oct. 10, 2020. (Xinhua/Wei Peiquan)
China boasts a digital sector of unparalleled size that draws strength from a vast data pool. The country now has 940 million Internet users; it has the world's largest number of 4G users and has built more than 500,000 base stations for the next-generation 5G wireless technology, said Zhuang Rongwen, director of the Cyberspace Administration of China.
At the summit's opening ceremony, Zhuang called for accelerating the industrialization of the digital sector and the digitalization of the industrial sector. He also urged the construction of a digital "Belt and Road."
The official also said China needs more breakthroughs in core information technologies, and the country will give greater support to the R&D and the application of domestically-developed key hardware, including high-end chips, operating systems, databases and high-end servers.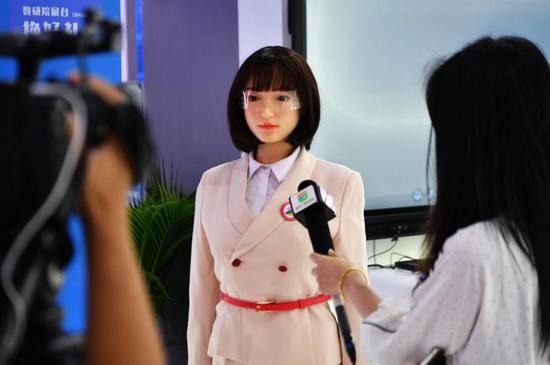 A smart robot is displayed at an expo on China's digital transformation in Fuzhou, capital of southeast China's Fujian Province, Oct. 12, 2020. (Xinhua/Wei Peiquan)
"VITAL" ANTI-VIRUS SUPPORT
The use of digital technologies in epidemic control is a highlight of this year's summit, which displays digital applications in a wide range of medical scenarios, from tracking the hospital choices of fever patients to citywide health databases.
Zhong Nanshan, a renowned respiratory-disease expert, said big data and AI have greatly improved doctors' ability to diagnose, predict and treat COVID-19, describing big-data technology in particular as providing "vital support" in understanding the disease.
"At the beginning of the epidemic, we learned about the incubation period and clinical features of the disease through big data collected from over 1,000 patients across the country, which offered important references for early diagnosis," he said in a video message sent to the summit.
The big-data analysis later expanded to cover more than 5,000 patients, whose data were used to predict major risks in patients' recovery process. Data on nearly 1 million CT images and AI technologies were also employed to assist young doctors in making diagnoses, according to Zhong.
Cheng said the epidemic has boosted the use of digital technologies in Chinese hospitals, many of which will likely be retained to raise overall medical efficiency.
The telemedicine center, for instance, has expanded its remote consultation services since the epidemic subsided to cover over 90 hospitals in the province, up from 17 hospitals dedicated to treating COVID-19, Cheng said.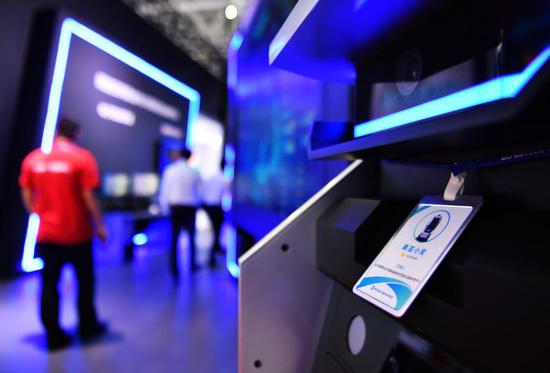 Photo taken on Oct. 12, 2020 shows a body temperature scanning robot displayed at an expo on China's digital transformation in Fuzhou, capital of southeast China's Fujian Province. (Xinhua/Wei Peiquan)
INDUSTRIAL "NECESSITY"
According to Zhuang, the added value of China's digital economy reached 35.8 trillion yuan (more than 5 trillion U.S. dollars) in 2019, a year-on-year growth of 15.6 percent. Smart manufacturing, industrial connectivity, e-commerce and the sharing economy have become key driving forces for China's growth.
The Chinese government has long expected digital technologies to nurture new economic engines and upgrade old industries as the country shunts from high-speed economic growth to the path of high-quality development. The pandemic is likely to speed up the industrial transition.
The COVID-19 epidemic has made digitalization a necessity rather than an alternative for companies, and new technologies, such as the industrial Internet, smart warehousing and customized manufacturing, are injecting new energy into China's economy, said Wu Hao, a senior official with the National Development and Reform Commission.
The fast-growing digital economy has also acted as a cushion in the grim job market. Over 48 million people were employed in e-commerce on social media in 2019, up 58 percent year on year, Wu said.
In Fujian, which has been building itself into a model of the digital economy, digitalization is now a common trend for companies and factories across industries.
In Goosun, an egg farm in Fuzhou, 600,000 laying hens start the day at 4 a.m. every morning to lights that are activated automatically and breakfast served by a conveyor belt. A one-meter-high robot then strolls around, using its sensors to collect data, including temperature, humidity and light, for better management.
"The more digital we become, the more we benefit from it," said Yu Jie, president of Goosun, adding that digital technology enables "almost impeccable decision making" as it boasts abundant and comprehensive data, while in the past decisions were based on experience and speculation.
Thanks to digitalization, which lowered costs and widened profit margins, Yu said his egg farm has withstood the negative impact of COVID-19, maintaining positive growth so far this year.
Data from the Fujian Agriculture and Rural Affairs Department suggest Yu's farm is not alone. The province now has 700 farms equipped with Internet of Things technologies, and over 1,000 agricultural businesses are undergoing digital upgrading.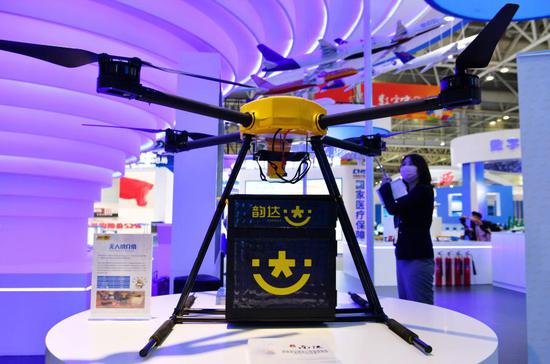 A delivery drone is displayed at an expo on China's digital transformation in Fuzhou, capital of southeast China's Fujian Province, Oct. 12, 2020. (Xinhua/Wei Peiquan)
According to a report released at the summit, digitalization has driven down costs by 17.6 percent and increased revenue by 22.6 percent for manufacturing enterprises, while logistics enterprises have seen costs falling by 34.2 percent and revenues rising by 33.6 percent.
Jingfeng, a textile manufacturer based in Fuzhou, said it maintained 10 percent growth in output and profitability between January and August, despite constricted market demands amid the pandemic.
"As soon as our salespersons input customers' needs on our management app, their information will be matched with data from our factory, such as price, stock and available assembly lines, and the system will decide whether to take orders and arrange delivery or production accordingly," plant manager Fu Chongxian said, adding that the smart system helps the factory save almost 70 million yuan in labor, energy consumption and raw materials every year.
"It is clear that COVID-19 has accelerated China's digitalization process," said Zhang Yong, CEO of Chinese tech giant Alibaba. The company is one major provider of the health QR codes that are widely used as an indicator of residents' health status in China.
"The wide use of digital technologies not only helps China successfully contain the outbreak in a short time, but also enables economic and social activities to return to normal faster," Zhang said.