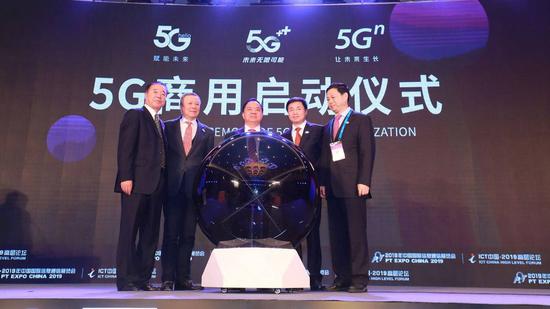 The launch ceremony for China's 5G commercialization at the PT Expo China in Beijing, October 31, 2019. (Photo via PT Expo China 2019)
China has launched its 5G commercialization at an annual international Postal and Telecom expo in Beijing.
An initiation ceremony was held on Thursday morning by the country's telecom giants, including China Telecom, China Mobile and China Unicom.
Chen Zhaoxiong, deputy minister of Chinese Ministry of Industry and Information Technology (MIIT), said China will use this opportunity to maximize the potential of telecom companies, and to accelerate the construction of an efficient nationwide 5G network.
Chinese telecom companies will announce 5G mobile packages during the expo on Friday.
Experts said at the expo that 130,000 5G base stations will be built by the end of this year in more than 50 Chinese cities and more are expected next year. And they will eventually reach all cities in China.
China's latest development in 5G and related industries will be showcased during this flagship 5G event held from Thursday till Sunday.
More than 60,000 attendees have registered to attend, and over 400 leading companies and organizations are slated speak at conference sessions.
They will discuss opportunities and challenges in the information and telecommunication industry.