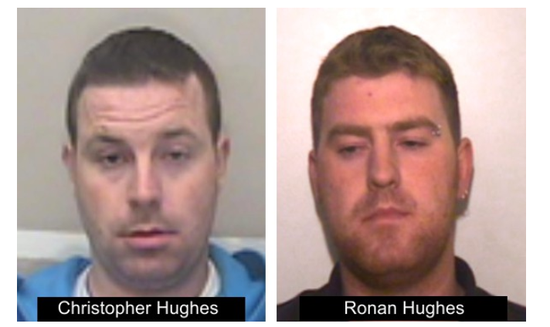 The brothers are thought to have links to both the Republic and Northern Ireland (Credit: Essex Police)
Detectives investigating the deaths of 39 people whose bodies were found in a refrigerated truck in Essex, have released images of two brothers wanted on suspicion of manslaughter and human trafficking.
Ronan Hughes, 40, and his brother Christopher, 34, both from Armagh, Northern Ireland, are believed to have links to the Republic of Ireland.
Leading the investigation, Detective Chief Superintendent Stuart Hooper, said: "Finding and speaking to the Hughes brothers is crucial to our investigation.
"At this time we believe they are in Northern Ireland but they also have links to the Irish Republic.
"If you know where they are or have any information about their whereabouts I need you to call my team.
"This is a case where 39 men and women have tragically died and support from the community is going to be vital to help bring those responsible to justice."
On October 23, British police said the bodies of 39 people were found inside a truck's container at an industrial site in Essex, to the east of London.
The truck driver, Maurice Robinson, also from Northern Ireland, appeared remotely via video call in a local court on Monday after being charged with manslaughter and conspiracy to commit human trafficking.
He was remanded in custody until November 25. The case will continue at the Old Bailey criminal court in London, where he will enter a plea.
A total of 29 families have reported to Vietnamese authorities that their family members may be missing in the UK amid fears that they are among the 39 people found dead, according to local authorities.
On Saturday, October 26, Vietnamese Prime Minister Nguyen Xuan Phuc ordered an investigation into the trafficking of overseas Vietnamese and demanded reports on the case by November 5. "(You) must investigate and find out cases of Vietnamese citizens being brought illegally to foreign countries and strictly handle the violations," Phuc said in a statement.