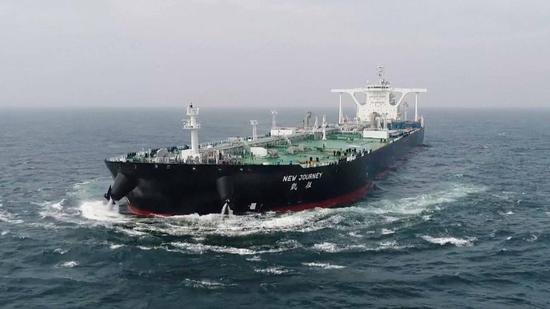 New Journey, the world's first intelligent VLCC. (CCTV Photo)
Loading and unloading is very important for oil tankers. There are 15 oil cargo tanks in this VLCC. In the process of loading and unloading, the crew should try to keep the balance of the cargo inside the carrier, or it will lose balance or even break.
"The loading and unloading work is very complicated involving 15 cargo tanks," said Li Zhipeng, chief engineer of the VLCC. "Now the intelligent cargo system collects nearly 599 information points, which can analyze and compare data based on the whole information and give reasonable suggestions. The efficiency as well as security of the work has been improved."
The vessel also has a course planning system, added Li. Before departure, it can automatically generate various routes such as time-saving or fuel-saving ones if the crew input the starting and end points. They then can choose the appropriate sailing route according to the specific situation.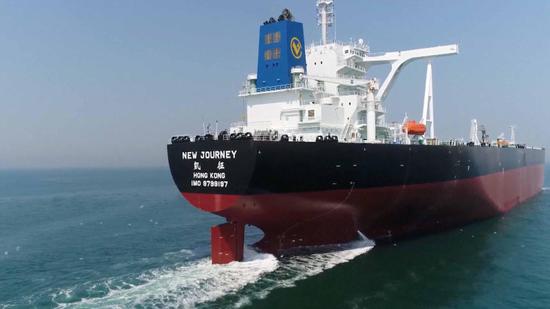 The VLCC is more than 300 meters long with a loading capacity of 308,000 tons. (CCTV Photo)
The safety of the vessel is also very important. Unlike cars on the road, a vessel has a much larger turning radius, said Li.
"Relying on its intelligent navigation system, the VLCC can accurately determine the position and speed of ships within 10 nautical miles, thus giving it enough time to navigate and make a turn, avoiding collisions."
The carrier is the sixth-generation VLCC independently developed by DSIC, and the 97th VLCC successfully delivered by the corporation.
Among the VLCC fleet in the world, one out of every 10 vessels is manufactured by China. China's super-large intelligent crude carriers will further enhance the market competitiveness with the intelligent system.