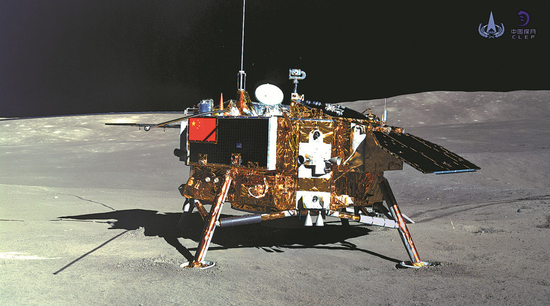 Photo taken by the rover Yutu-2 (Jade Rabbit-2) on Jan 11, 2019 shows the lander of the Chang'e-4 probe.(Photo/Xinhua/China National Space Administration)
Chang'e 5 tasked with retrieving soil from moon, completing program's third phase
China plans to send its Chang'e 5 probe to the moon around the end of the year and bring lunar samples back to Earth, a senior space official said.
Wu Yanhua, deputy head of China National Space Administration, said at a news conference in Beijing on Monday afternoon that the Chang'e 5 mission will be the next step in China's lunar exploration and will mark the completion of the program's third phase, whose goal is guiding a probe carrying lunar soil back to Earth.
The country's first Mars mission is scheduled for around 2020, he said.
If Chang'e 5 succeeds in its mission, China will become the third nation to retrieve lunar samples, after the United States and Russia.
According to sources close to China's lunar program, Chang'e 5 will be launched on a Long March 5 heavy-lift carrier rocket at Wenchang Space Launch Center in Hainan province.
The 8.2-metric ton probe has four components-orbiter, lander, ascender and re-entry module. When the probe reaches lunar orbit, the components will separate into two parts. The orbiter and re-entry module will remain in orbit, and the lander and ascender descend to the moon's surface, sources said.
They will make a soft landing and get to work on tasks such as drilling to collect underground rocks and gathering soil with a mechanical arm.
When the surface operations are completed, the ascender's rocket will return it to lunar orbit, where it will dock with the re-entry module. The samples will be transferred to the module, which will carry them to Earth. The samples will be distributed among scientists for research, according to sources.
Pang Zhihao, a spaceflight researcher at the China Academy of Space Technology, said Chinese scientists must master four technologies essential to the Chang'e 5 mission-lunar sampling, lunar surface liftoff, lunar orbit docking and high-speed re-entry.
After Chang'e 5, China has plans for Chang'e 6, 7 and 8 missions, Wu said. Chang'e 6 is intended to land on the moon's south pole, he said, and return with rocks and soil.
Chang'e 7 will investigate the south pole, and Chang'e 8 will be tasked with verifying advanced technologies that may be applied in future lunar expeditions, including a possible lunar scientific base.
Regarding the ongoing Chang'e 4 mission, the official said the lander and the Yutu 2 rover have entered a planned dormancy period as the far side of the moon goes through a two-week lunar night. When it awakes, Yutu 2 will move northwestward to continue its survey, he said.