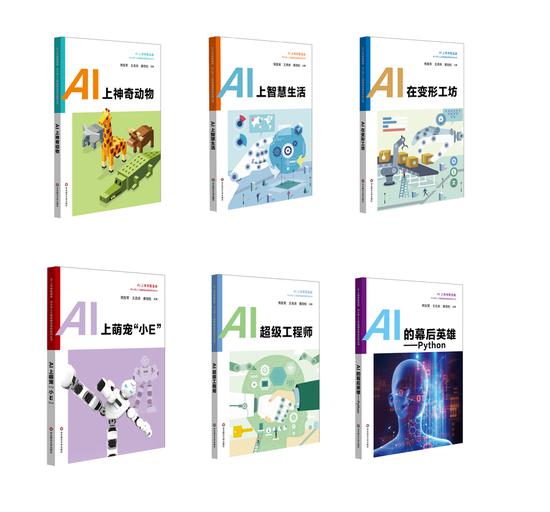 Six published volumes of China's first AI textbook series. (Photo/East China Normal University Press)
In order to educate the future generation about the rapid development of artificial intelligence (AI) technology, China has introduced its first comprehensive AI textbook series designed for primary and secondary schools.
Starting spring semester next year, hundreds of elementary and high schools across China will incorporate AI courses into their school's curriculum using a 10-volume series, Shanghai-based media outlet the Paper reported.
Six volumes within the series have been published and piloted over the fall semester at a number of middle schools in Shanghai where the publisher East China Normal University Press is based. Students reportedly welcomed the fun, innovative courses.
"The reason we want our students to systematically gain AI-related knowledge is to prepare them for a future where robots roam around and AI application prevails," Professor Wang Qingji, the chief editor of the series said.
Wang added that experienced educators, AI technology experts and government officials in the education sector were involved in the compilation project, so the textbooks could provide comprehensive, targeted knowledge for children based on their different cognitive levels.
The AI textbook series covers a wide range of topics ranging from robot pets, AI engineering to the more advanced programming language of Python.
China hopes to become a world leader in artificial intelligence by 2030. To reach that goal, the country has stepped up its effort to equip its future generations with curiosity and practical knowledge of the field.
Last year, the State Council launched an ambitious plan to require elementary and secondary schools to incorporate AI courses in their school's curriculum.