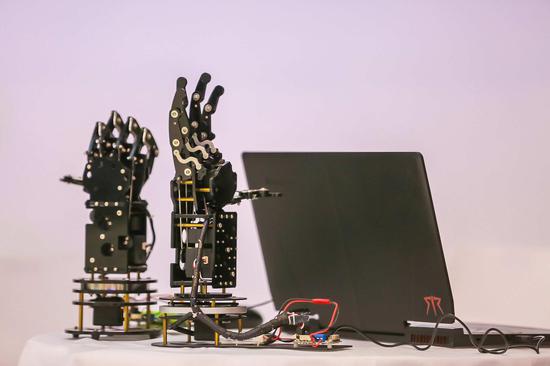 AI, big data, robot, Internet of things and 5G are some of the buzzwords from these ambitious exhibitors attending the WIMS. (CGTN Photo)
Facing the ongoing global trade tension and challenges like overcapacity, global industry leaders are now turning to intelligent manufacturing for cutting-edge solutions.
Making manufacturing smarter has become a new approach and growth engine for the ancient city of Nanjing as nearly 2,000 exhibitors from around the world have gathered in the eastern Chinese city for this year's World Intelligent Manufacturing Summit (WIMS) from Oct. 11 to 13.
For the third straight year, intelligent manufacturing leaders have gathered here from around the world. Chinese officials at this year's summit once again call for nationwide upgrades to manufacturing.
The theme of this year's summit is "Empowering the future through intelligent manufacturing." So what kind of smart solutions are these global exhibitors offering this time?
"We are showcasing both our hardware and software here and we even bring real furniture here just to show how we use intelligent manufacturing to customize our products," said Zhang Rui from BSH Home Appliances.
"We are providing services for electric vehicles start-ups around the world and that's also the case for Chinese companies. And we are also looking for collaborations with traditional industries. We are seeking for mid-term and long-term cooperation with our partners in China," said Philippe Bartissol, vice president of Industrial Equipment at Dassault Systemes.
"First, we have set up both the 'smart enterprise' and 'smart factory' systems by linking resources through cloud and big data. Then, we have brought our chips here, which are widely used in military and transportation industries," said Hu Changming, chief expert at the 14th Institute of China Electronics Technology Group Corporation.
AI, big data, robot, Internet of Things and 5G are some of the buzzwords from these ambitious exhibitors. But experts say China still has a long way to go, especially for small- and medium-sized enterprises.
"We first must solve the foundation. We must find reasonable level of automation, reasonable level of IT infrastructure, data generation. Do you have the right manufacturing execution system (MES)? Are you ready for data synchronization?" said Ni Jun, mechanism professor at the University of Michigan.
But one thing is for sure: more players will soon enter the race of industrial innovation. And cities like Nanjing will soon become even smarter.