State-run China General Nuclear Power Corp (CGN), a leading developer of reactors in the country, said on Saturday that no American technology will be used in its proposed project in Britain.
CGN and China National Nuclear Corporation (CNNC) are jointly promoting an advanced third-generation reactor known as the Hualong One to overseas clients. CGN aims to deploy the technology at a proposed nuclear project in Bradwell in England.
On Thursday, amid growing trade tensions, the US Department of Energy said it was tightening controls on civil nuclear technology exports to China to prevent military use or other unauthorized purposes.
CGN came under US scrutiny again last year with a National Security Council-led review of China's efforts to obtain nuclear material, equipment, and advanced technology from American companies, US government officials told reporters on Thursday.
"We do not understand whether the US government's inferences about CGN are based on proven facts or judicial decisions that have already taken effect," CGN said in a statement released on Saturday.
"The US government's inferences are improper. We reserve the right to safeguard the legitimate rights and interests of our enterprise by law."
The statement also said that there is no US technology involved in its project in the UK, and the nuclear technology export process is being strictly supervised by Chinese authorities.
"We will continue to work with our partners to promote new nuclear power projects in the UK," CGN added in the statement.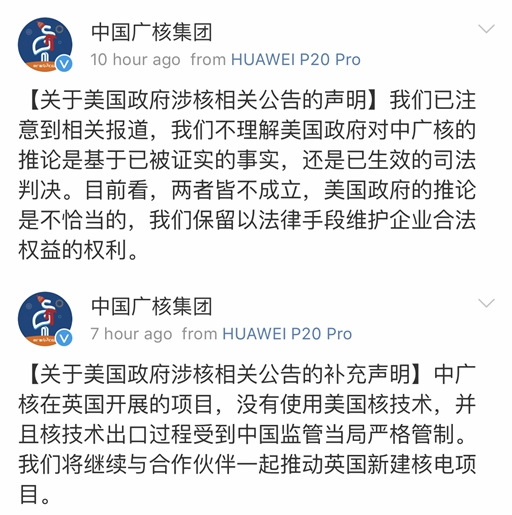 CGN posted a statement on Saturday. There is currently no official English translation. (Photo/Screenshot via Weibo)