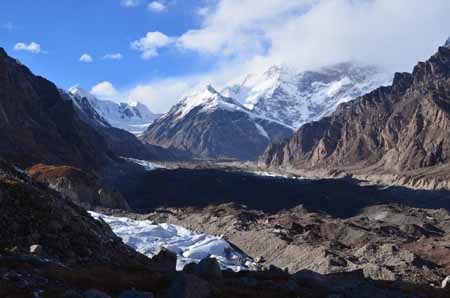 File photo of Glacier No. 1 in the Tianshan Mountains of northwest China's Xinjiang Uygur autonomous region. [Photo/www.ts.cn]
Sitting in northwest China's Xinjiang Uygur Autonomous Region, the Tianshan No.1 glacier is approximately 130 kilometers away from the city of Urumqi. It is the closest glacier to an urban community in the world.
The Tianshan No.1 glacier is melting fast with a recession of at least 9.2 meters each year. Scientists warn that the glacier – the source of the Urumqi River, which more than four million people depend on – may disappear in the next 50 years.
In the past 50 years, the average global temperature has risen by one degree Celsius. As a result, the Tianshan No.1 glacier has been split into No.1 East and No.1 West.
The long-term goal of the 2015 Paris accord on climate change – which the Trump administration has promised to withdraw the US from, but to which China is still a party – is to limit the increase in global average temperature to well below two degrees Celsius above the pre-industrial level. Tianshan is one of those rare places where the outcomes of climate change policies can be measured and seen, according to an article posted by the Chinese Academy of Sciences.
"If every country sticks to the emissions reductions in the Paris accord, these two glaciers will be around for another hundred years, if not, temperature will continue to rise and the glacier will be gone in 50 years," said scientist Li Zhongqin, who headed the Tianshan Mountains Glaciological Station of the Chinese Academy of Sciences.
Another reason for the accelerated melting process is the increasing amount of cryoconite on the glacier, according to Li. Cryoconite is windblown dust that combines small rock particles, soot, and microbes which builds up upon snow, glaciers, or ice caps. It darkens the surface of a glacier and absorbs solar radiation that melts the snow or ice beneath it, creating holes on the glacier.
Pollution from factories and vehicles nearby are the main reasons for the increase in cryoconite, while land degradation led by overgrazing also plays an important part in it.
Li pointed out that if no action is taken in response to climate change, as well as pollution, the melting process will continue to accelerate, and the glacier will disappear soon. Without the glacier, the whole region will start to dry up. Therefore, it is important to take actions now.
While the scientists are studying how to slow down the melting process, "this glacier will continue to melt even if global temperatures stop rising," Li added. The scientists are facing one of the most challenging tasks in saving China's glaciers now.