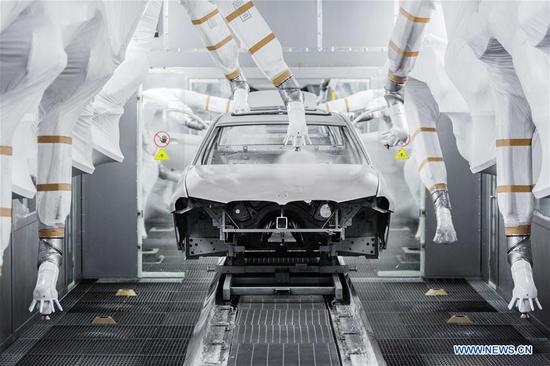 This undated photo shows a car being painted by robots at a factory of BMW in Shenyang, capital of northeast China's Liaoning Province. (Xinhua)
Artificial intelligence (AI) can liberate humans from repetitive jobs and cultivate creative minds, while posing new challenges to labor market and education, making human capital investment a key issue to address, according to a report jointly released by China Development Research Foundation (CDRF) and Sequoia China.
AI technology has penetrated almost every aspect of the manufacturing industry and made it possible to promote customized mass production and services.
Machine manufacturing and e-commerce sectors have adopted AI technology to boost efficiency, along with the financial industry that has also experienced major changes with AI application, said the report entitled "Human Capital Investment in the AI Era" and published on Wednesday.
Among the three major sectors of financial industry, the insurance sector will be the most hit by AI, followed by the banking sector and capital markets, the report said.
The report predicted that by 2027, 23 percent of jobs in China's financial industry will be replaced by AI, 22 percent in banking sector, 25 percent in insurance and 16 percent in capital markets.
Intelligent transformation has brought changes to China's banking sector. Through the introduction of intelligent counters, China's five major commercial banks closed 162 outlets in the first half of 2017.
The good news is that the remaining 77 percent of jobs in the country's financial industry will be supported by AI technology with enhanced efficiency.
Working hours in the banking sector, insurance and capital markets will be reduced by 2.4 hours, 1.8 hours and 2.9 hours per day respectively, according to the report.
"AI will greatly free humans from repetitive jobs and cultivate creative minds," says Neil Shen, founder and managing partner of Sequoia China. "This means work will shift from 'labor-centric' to 'innovation-driven'."
AI technology will create three types of new jobs in the financial industry, including technology-based jobs such as data scientists, operational jobs and coordinators to connect the first two jobs.
With such a major change in the job market, it is important to note that the entire society, particularly the fields of academic education and vocational training, must be prepared to adapt to the changes and prepare for the upcoming challenges, the report noted.
Investing in human capital is and will always be a major pathway to job creation in the AI era, the report said, suggesting that educational resources should be allocated to "further human equity and equality, and foster a new generation in the workforce that can easily adapt to social changes."