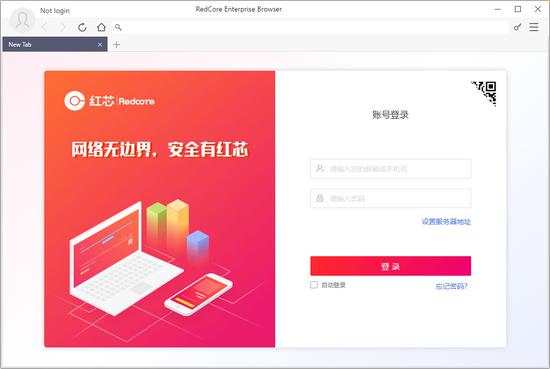 Redcore's browser, with its enterprise log-in page open /Screenshot from Redcore
Chinese web browser company, Redcore, has infuriated the country's netizens after it was found be to apparently ripping off Google's Chrome browser.
The discovery stayed at the top of the most-searched list for more than three days, with several thousand comments trolling the company as a "stereotypical copycat."
But is the company really a copycat? Let's find out.
The Chrome and Redcore browsers
A web browser is what we use to view webpages – the main content of the Internet and the main reason we go online.
This article is shown to you as a webpage, be it on our official website or mobile app.
Most people use Google's Chrome as their main browser, just like Google is often the main search engine.
But this could be a problem for governments and large businesses that want to control the web-browsing experience as trusting a single company to do this job can be risky.
The situation is even worse in China, as Google withdrew most of its business from the country in 2010. (And now a rumor says it's trying to come back.)
This is where local browser makers like Redcore are necessary.
Redcore is a Chinese company founded in 2012 to provide an alternative browser that gives control back to the owners. It also includes features customized for the Chinese market, like support for standard Chinese encryption algorithms.
The company finished it's 36 million US dollar Series C funding on August 15, which is roughly when the controversy hit the Internet.
An original, an improvement or a copy?
Redcore initially claimed they created a "made-in-China" browser to break the domination of US products.
But some programmers pointed out that the software package of the browser has an old version of Google's Chrome in it - triggering the whole "copycat browser" incident.
Chinese netizens have long been fed up with rip-off products so, after looking at the funding history of the company, they launched a huge trolling campaign.
Some mocked the company as the "bravest in history," while others posted a GIF that showed the way they built their browser was simply to change the icon from Chrome's to theirs.
Redcore defended themselves by saying they are creating a new browser based on Chromium, an open-source version of Chrome.
Making new software out of already-existing ones is a common practice in the open-source world. Programmers do this to prevent "reinventing the wheel" and focus on adding new features.
They usually call it "forking", a reference to the way software tends to always spawn variants.
In fact, there are a lot of Chromium-based browsers, like Yandex, newer versions of Opera and many widely-used products in China including Tencent's QQ Browser, which openly advertise its relation with Chromium.
Redcore's founder Chen Benfeng referred to the same theory at an interview with Sina.
That being said, Chen admitted they have done other things wrong. "We should not claim Redcore is fully Chinese-made," he said.
The company took down their download link to the browser after the controversy broke, and redesigned its website to remove the mentions of being "fully made-in-China."