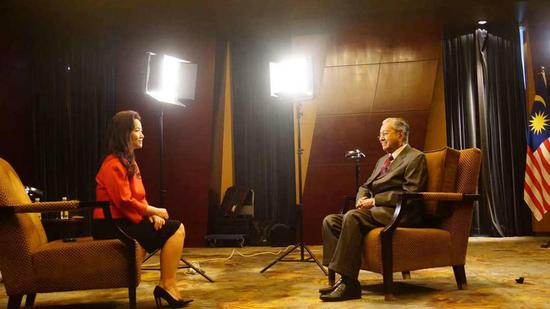 Visiting Malaysian Prime Minister Mahathir Mohamad (R) speaks with CGTN's Cheng Lei in Beijing, August 19, 2018. /CGTN Photo
Malaysia expects to deepen and strengthen its relationship with China in various fields, especially in technology, said visiting Malaysian Prime Minister Mahathir Mohamad on Sunday.
"China has made tremendous progress. It is now coming up with new technologies and new systems and this has improved the wealth and economic performance of China. We'd like to learn something about that so that we can prosper our own country," Mahathir told CGTN in an exclusive interview.
Before his arrival in Beijing, Mahathir visited China's largest e-commerce company Alibaba and a leading Chinese auto manufacturer Geely in east China's Hangzhou city on Saturday.
He spoke highly of Jack Ma, saying Ma's ideas have contributed much to business, in particular helping smaller industries. And he expects Malaysia's small and medium-sized enterprises to take advantage of Alibaba's strategy of developing the digital economy in Malaysia.
In June, Alibaba launched a new office in Malaysia, which was the company's first office in Southeast Asia.
"This will bring small producers from the villages into the market. Because now the market is open, even to the smallest producer of goods or services," he said.
When asked about Malaysia's role to promote better cooperation since it's one of the biggest economies in ASEAN countries, Mahathir said he'd like to see Malaysia as kind of a model.
"We would experiment with new ideas, new technology. If we succeed, other ASEAN countries would adopt the system... It will help improve the economy throughout the whole of Southeast Asia," he explained.