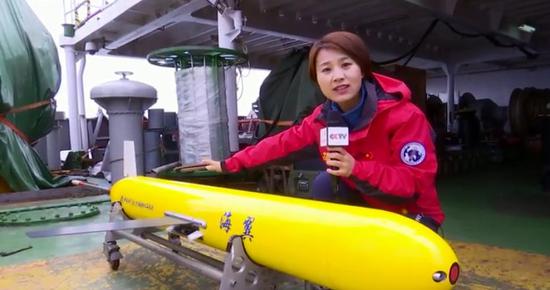 CCTV's reporter explains different parts of the underwater glider at a close range. (CCTV Photo)
China's ninth Arctic expedition team successfully set an underwater glider from the research vessel, ice breaker Xuelong on early Saturday morning. For the next 50 days or longer, the glider will conduct hydrographic observations on the open sea area of the Bering Sea, and send back real-time data to the scientists onboard.
This domestically designed glider, with the appearance of a stretched Minion, is able to reach a depth of 1,000 meters in the sea. It is two meters in length and one meter in wingspan, with sensors attached.
In addition, there are two designs that should not be overlooked. One is the red button at the front end, which is a sonar that helps prevent collisions. The other is the pole at the tail end, which serves as an antenna to receive signals.
According to one member of the expedition team, Lin Lina, the glider will dive down and rise up, which combined can be seen as one round of observations. "Once a round is finished, it will send back the data it collects and will start the next one," Lin said.
For the next 50 days or longer, the glider will monitor the temperature and salinity of sea water in a 600 nautical mile range of Bering Sea's open area. The change of hydrologic environment here directly affects the Arctic region because sea water from the North Pacific flows through the area to the Arctic Ocean.
Research assistant to the chief scientist of this expedition, Chen Hongxia said the glider is a great helper for China to obtain data in research of ocean and polar regions, and that because of data-sharing, it can benefit the whole world.
The underwater glider designed by Shenyang Institute of Automation of the Chinese Academy of Sciences can work on its own for about three months. Scientists will retrieve it by GPS on their way back.