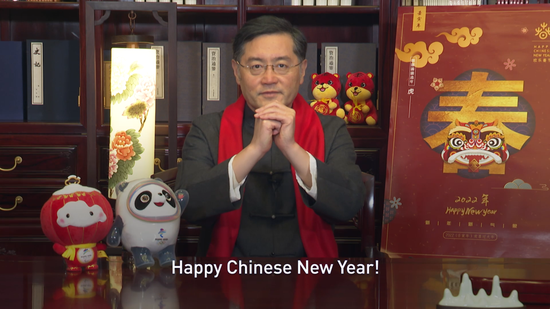 Chinese Ambassador to the United States Qin Gang. (Photo/Chinese Embassy in the U.S.)
Chinese Ambassador to the United States Qin Gang delivered a video message on Saturday when he joined more than 400 American families on the Virtual Chinese New Year Family Day, co-hosted by the Chinese Embassy in the United States and the Smithsonian American Art Museum.
Ambassador Qin kicked off the program by sending Chinese New Year greetings to the audience. He said he was excited the day before to watch the opening ceremony of the Beijing 2022 Winter Olympic Games. "Athletes from all over the world, including Team USA, are giving their best performances while experiencing the Lunar New Year in China," he added.
He was delighted that the audiences present were also celebrating this important Festival through the presentation of talented artists from both his home country and local communities, obtaining a better understanding of the Chinese New Year and culture.
Director Stephanie Stebich of the American Art Museum thanked the Embassy for supporting the Family Day. She pointed out that it is the 8th Chinese New Year celebration jointly hosted by the Embassy and the Museum. She looked forward to many more cultural exchange programs in the future.
The Chinese Embassy provided the event with demonstration videos produced by Chinese and American artists, including Beijing Opera movement skill 101, Paper-cutting New Year window decoration tutorial and Clay tiger modeling tutorial. The programs won many thumb-ups and comments from the viewers. Local American Chinese arts group presented video of lion dance, Chinese diabolo performance and calligraphy demo, which gives the audience a rich experience of Chinese New Year celebration.
The Chinese New Year Family Zone set under the museum's webpage also launched the tiger-themed coloring patterns created by a local young illustrator who was invited by the Chinese Embassy, which is well-received by viewers, especially the kids.