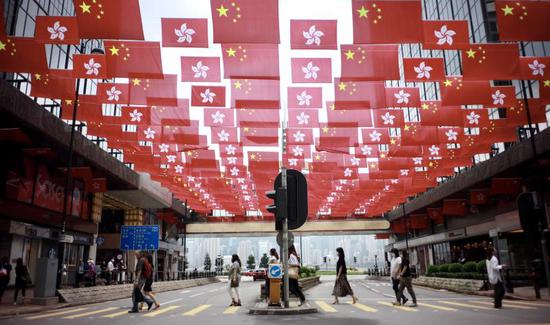 People walk past China's national flags and the flags of the Hong Kong Special Administrative Region for the celebration of 24th anniversary of Hong Kong's return to the motherland at Tsim Sha Tsui East in Hong Kong on June 29, 2021. (chinadaily.com.cn/Edmond Tang)
Hong Kong won't maintain its unique advantages and continue to shine as a pearl of the orient without the city's National Security Law, said Zheng Yanxiong, head of the Office for Safeguarding National Security of the Central People's Government in the city.
Zheng's remarks were made in an interview with a Hong Kong-based Chinese-language magazine, East Week, on the eve of the first anniversary of the implementation of the city's National Security Law.
The law, which targets four types of crimes - secession, subversion, terrorist activities and collusion with a foreign country or external elements to endanger national security – came into force in the Hong Kong Special Administrative Region on June 30, 2020.
In Zheng's opinion, two things make the Hong Kong Special Administrative Region "special" – one is the city was established under the "one country, two systems" principle and "Hong Kong people administering Hong Kong" with "a high degree of autonomy" and the other is the city's high internationalization and sound and effective rule of law.
These enable Hong Kong to develop as an international financial hub, shipping center, trade center and shopping paradise, he said.
But national security is an organic component of these two key features, Zheng said.
Safeguarding national security is a prerequisite of the stable and sustainable implementation of "one country, two systems" as with "one country" being compromised, there will be no "two systems", he said.
Similarly, if national security is undermined, it will be the biggest loophole in the rule of law, rendering the rule of law a "castle in the sky".
He stressed that national security, in any country or region, is the foundation of all other kinds of security.
Zheng paid special tribute to the national security unit of the city's police force for shouldering up the sacred responsibility of safeguarding national security when the city was facing a crisis and for bringing law and order back to the city.
They deserved respect and the reliance of Hong Kong residents, he said.