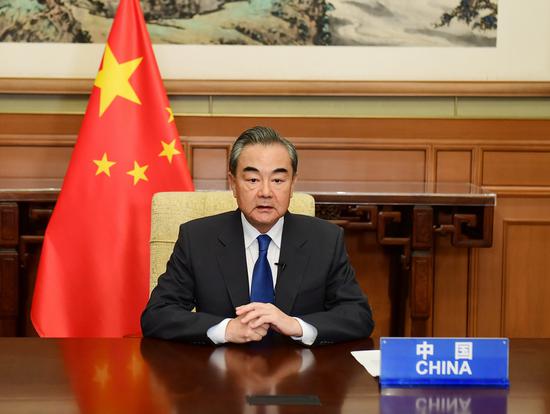 Chinese State Councilor and Foreign Minister Wang Yi on Friday addressed in Beijing the 10th anniversary commemoration of the Pacific Alliance via video link. (Photo/fmprc.gov.cn)
Foreign ministers from China and five Central Asia countries will meet on Wednesday in Xi'an, Shaanxi province, in their first face-to-face contact since their initial meeting by videoconference in July.
During the meeting, State Councilor and Foreign Minister Wang Yi and foreign ministers from Kazakhstan, Kyrgyzstan, Tajikistan, Turkmenistan and Uzbekistan will hold in-depth exchanges on anti-pandemic cooperation, joint construction of the Belt and Road, interconnectivity and international coordination, Foreign Ministry spokeswoman Hua Chunying said on Monday.
They will also discuss related documents and conduct a series of bilateral talks as well as multilateral friendly exchanges, Hua said at a daily news conference.
The first China + Central Asia foreign ministers meeting was held in July via video link, which Hua said introduced a new platform to deepen mutual trust and cooperation.
Kazakh Foreign Minister Mukhtar Tleuberdi said last week that the meeting between the ministers offers a new way to deepen relations with China, and he expects the platform to play a positive role in safeguarding regional peace, stability and prosperity.
Hua stressed that Central Asia has been an important link on the Silk Road since ancient times, and nations in the region are key partners of China in jointly building the Belt and Road.
The city of Xi'an, cradle of the ancient Silk Road, also has a special significance for the upcoming meeting, she said.
This event will strengthen China's relationship with Central Asia and promote BRI cooperation to make new achievements, she added.
The BRI suits the need for the long-term development of Central Asian countries, and their response to the initiative is positive, said Su Chang, a senior researcher at the Institute of Russian, Eastern European and Central Asian Studies at the Chinese Academy of Social Sciences.
The five nations urgently need to promote the construction of the Belt and Road as the pandemic has harmed their economic growth, she said, adding that China's support will help them resume work and production.