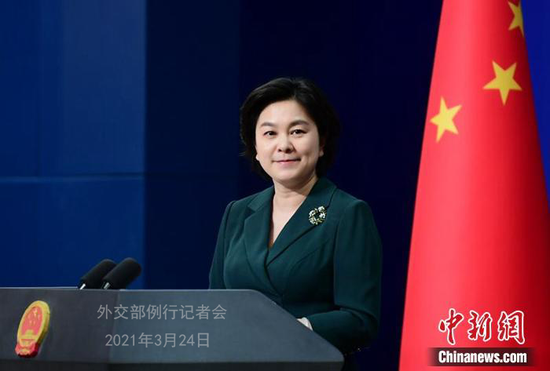 Hua Chunying, the spokesperson for the Chinese Foreign Ministry, addresses a press conference on March 24, 2021. (Photo provided to Chinanews.com)
Special: Battle Against Novel Coronavirus
(ECNS) -- With the help of the Chinese Foreign Ministry, nearly 150 foreign journalists from 27 countries got vaccination on Tuesday were inoculated with Chinese vaccines, according to ministry spokesperson Hua Chunying on Wednesday.
China provided domestic COVID-19 vaccines to foreign journalists out of caring for their work and life in China against the background of the pandemic, and the vaccinations have been proven safe and considered as a "gift of spring," Hua told a press conference.
"Many foreign journalists have told my colleagues and me that, considering their needs for health and in work, they hope to get inoculated with Chinese-made COVID-19 vaccines in China as soon as possible and hope that the Chinese side will provide help on this," the spokesperson said.
In response to their concerns and out of care for their health, the Chinese Foreign Ministry coordinated with relevant Chinese departments to have foreign journalists and their families of eligible age vaccinated on an informed and voluntary basis with expenses and risks undertaken by themselves.
"We are not aiming for publicity of Chinese vaccines so that we didn't film or report anything during the vaccination," the spokesperson said, adding that "Our only goal is to address the concerns of foreign journalists in China, care more for your health, and make it easier for you to work and live here."