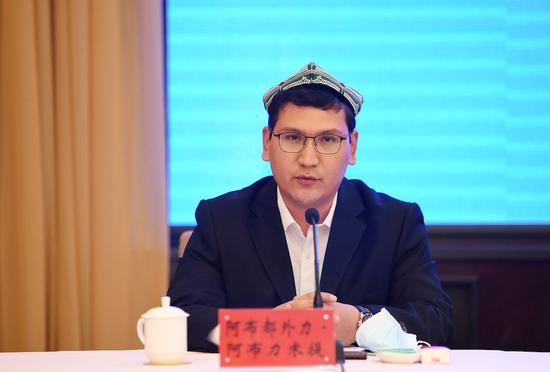 Abuduwaili Abulimiti, president of the Islamic Association of Shache county in Kashgar prefecture and the hajib of Aletun Mosque in Shache town, talks to the media on March 9. (Photo/Tianshannet)
Special: Xinjiang
Rumor: The Chinese government has demolished mosques in Xinjiang and destroyed religious places for the Uygur Muslims.
Fact:
"I have never heard of any cases of the demolition of mosques and destruction of religious places," said Abuduwaili Abulimiti, president of the Islamic Association of Shache county in Kashgar prefecture and the hajib of Aletun Mosque in Shache town, on March 9 at a news conference.
Most mosques in Xinjiang were built in the 1980s-90s or even earlier and originally were adobe houses. Some of them were very narrow and small, and some had become dangerous buildings, so normal religious activities could not take place on windy and rainy days. In the event of an earthquake, the safety of Muslims would be seriously threatened. In addition, some mosques could not provide a convenient place for Muslims to carry out religious activities due to unreasonable layouts.
In recent years, with accelerated urbanization and the implementation of the rural revitalization strategy, some local governments, in response to demands from local Muslims, have solved the problem of dilapidated buildings in mosques. In accordance with urban and rural construction planning, the local governments work on these solutions in concert with the transformation of urban shantytowns, improvement of rural living environments, and relocation for poverty alleviation, and have taken a variety of measures involving new construction, relocation and expansion. At present, with safer houses and more reasonable layouts, the mosques in Xinjiang can fully meet the needs of religious people.
Like other mosques, the Aletun Mosque has a land use certificate, property certificate and registration certificate for religious places granted by relevant governmental departments, and the rights of the mosque are guaranteed in accordance with the law, said Abuduwaili Abulimiti.
The mosque has a history of more than 480 years, covering an area of more than 2,600 square meters. The prayer hall of the mosque can accommodate 300 worshipers at the same time. In 2006, it was listed as a national key cultural relics protection unit, and the state also allocated special funds for repair and preservation. Now the mosque has spacious and bright halls with clean and tidy rooms, creating a beautiful environment. The Muslims who worship there feel very satisfied with the conditions in the mosque.
(Source: Tianshannet)