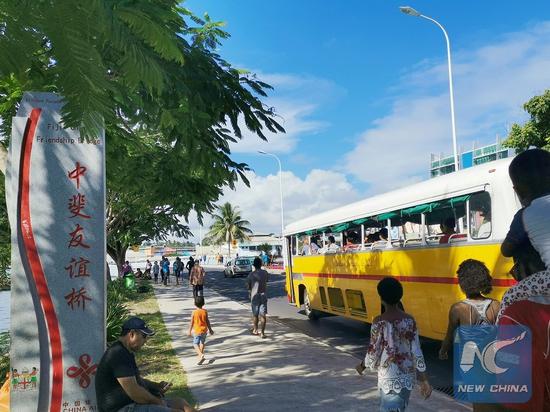 Photo taken on March 16, 2019 shows the Stinson Parade Bridge in downtown Suva, capital of Fiji. (Xinhua/Zhang Yongxing)
A Chinese diplomat in Fiji was injured earlier this month after staff of the Taipei Trade Office provocated embassy staff at a local hotel, the Chinese embassy in Fiji said on Monday.
The Taipei Trade Office in Fiji held a so-called "National Day" event at the Grand Pacific Hotel in Suva on October 8, a move that violates the one-China principle as it seeked to create "two Chinas" or "one China, one Taiwan" internationally, the embassy said in a statement.
The staff from the trade office "acted provocatively against the Chinese Embassy staff who were carrying out their official duties in the public area outside the function venue, causing damage and injuries to one Chinese diplomat," it added.
Earlier, a Reuters report said two Chinese diplomats attacked an official from the Taipei office who ended up in hospital.
"There is only one China in the world and the government of the People's Republic of China is the sole legitimate government representing the whole of China. Taiwan is an inalienable part of China's territory," the embassy said.
China and the Pacific island country established diplomatic relations in 1975.
According to Chinese official data, the bilateral trade reached over $482 million in 2018, representing a 26-percent increase from the year before.
China highly appreciates the Fijian government for upholding the one-China principle and expects that the Fijian side will tackle this issue properly, the embassy added.