Special: Battle Against Novel Coronavirus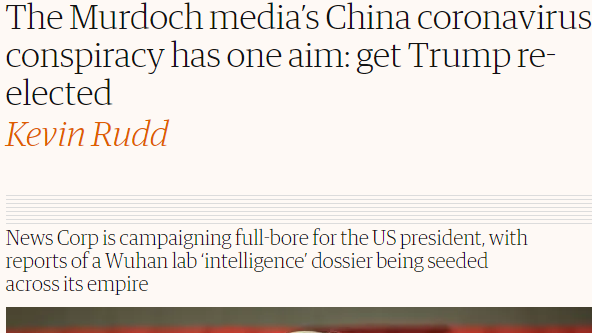 Former Australian Prime Minister Kevin Rudd condemned fabricated news reports by Rupert Murdoch's media outlets that fan the conspiracy theory that the novel coronavirus was made in a Wuhan lab, saying they have one aim - get U.S. President Donald Trump re-elected.
"Let's be clear: Murdoch is campaigning full-bore for Trump," he wrote in an article that was published on the Guardian on Friday.
"Having delivered its political ordinance in support of Trump and Pompeo, the Murdoch story carefully and cleverly seeks to cover its traces by stating repeatedly that nothing is yet proven about the laboratory leak," he argued.
"The truth is, at this stage, none of us know definitively whether the virus came from the Wuhan laboratory," he added.
"Lies were reported as facts. Credible skeptics were downplayed, ignored, or attacked as unpatriotic 'appeasers'. The thrill of landing a big 'story' overtook the media's fundamental duty to prevent the public from being deceived," he wrote.