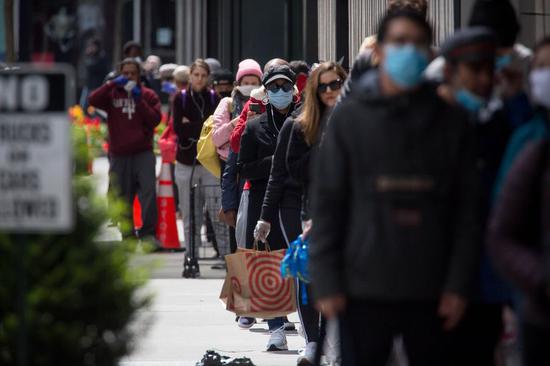 People wearing face masks wait in line to do shopping at a store during the coronavirus pandemic in the Brooklyn borough of New York, the United States, on April 14, 2020. (Photo by Michael Nagle/Xinhua)
The outlook for inflation-adjusted gross domestic product (real GDP) in 2020 reversed sharply, with 86 percent of respondents expecting a contraction, according to a survey of U.S. business economists released Monday by the National Association for Business Economics (NABE).
"The April 2020 NABE Business Conditions Survey represents a very different world than the one we inhabited during the last survey in January," said NABE President Constance Hunter, chief economist at KPMG.
The survey report presents the responses of 107 NABE members to a survey conducted April 13-16, on business conditions in their firms or industries, and reflects first-quarter results and the near-term outlook.
"Respondents report that last quarter was the worst since the global financial crisis for sales, profit margins, prices, and capital spending," said survey chair Megan Greene, a senior fellow at Harvard Kennedy School.
"Compared to the outlook three months ago, respondents in the April survey report huge declines in the outlook for the next three months for each of these measures, as well as for wages and employment," Greene added.
A third of respondents said their firms' operations had been "severely impacted" by the COVID-19 outbreak, including a few firms that had had a "full suspension of operations," according to Greene.
Sixty-three percent of respondents indicated their firms had imposed a hiring freeze in response to challenges from the virus, the survey showed. In addition, 31 percent of companies furloughed employees, and 17 percent terminated part of their workforce.
Over half of respondents expected the official U.S. unemployment rate would be between 6 percent and 9.9 percent one year from now; 28 percent anticipated that the unemployment rate would still be 10 percent or higher then.
Nevertheless, three-quarters of respondents expected their firms could stay afloat for longer than six months without federal assistance, according to the survey. Thirty percent of respondents expected to resume normal business operations within five to eight weeks, but nearly as many expected it would take three to six months.