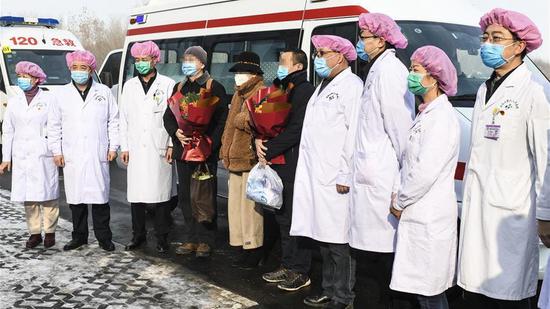 Three cured patients of COVID-19 pose for a group photo with medical staff at the No. 6 People's Hospital of Xinjiang Uygur Autonomous Region in Urumqi, northwest China's Xinjiang Uygur Autonomous Region, February 11, 2020. /Xinhua
Special: Battle Against Novel Coronavirus
China's Xinjiang Uygur Autonomous Region on Thursday strongly criticized references over the COVID-19 situation in the region, saying it is fully confident in defeating the pandemic.
Elijan Anayit, spokesperson for the Information Office of Xinjiang Uygur Autonomous Region's government, made the remarks at a press conference in Urumqi, the autonomous region's capital.
The official's remarks came after some so-called "East Turkistan" forces said vocational education and training centers in Xinjiang are at risk of virus infection.
Slamming accusations that the region's infection numbers are being hidden, the official added that the "East Turkistan" forces are just making up lies to smear Xinjiang, which is ridiculous and ludicrous in every way.
Presently, all 73 patients confirmed with COVID-19 infection have been cured and discharged from hospitals, and there have been no new confirmed cases for 23 consecutive days, said the official.
Authorities also addressed questions from journalists on other Xinjiang-related issues.
Q: Some East Turkistan forces outside China deliberately launched rumors about Xinjiang, such as "the vocational and education training centers in Xinjiang are at risk of COVID-19 spread," "Xinjiang is hiding the truth of its epidemic situation," and "Xinjiang is eliminating Uygur people with the spread of the virus." What is your comment on these?
A: Since the outbreak of COVID-19, we have been sharing virus-related information with the public every day, responding actively to social and media concerns. As of the press conference, all 73 patients confirmed with COVID-19 infection have been cured and discharged from hospitals, and no new case has been confirmed for 23 consecutive days.
We've noticed that some East Turkistan forces are spreading sensational rumors about Xinjiang, saying something like the vocational education and training centers are at risks virus infection; the Chinese government is using the virus to eliminate Uygur Muslims; or Xinjiang is hiding truth of its infection cases. We strongly deplore and condemn all these fabricated slanders and attacks.
Q: The U.S. State Department gave the 2020 International Women of Courage Award to Sayragul Sauytbay and Secretary Pompeo Commended how she "bravely provided accounts of Xinjiang's internment camps." Can you comment on this?
A: We have published several times about the suspected crimes Sayragul Sauytbay had committed in China and exposed the lies she had fabricated. When the U.S. State Department gave that award to Sayragul Sauytbay, it awarded a criminal suspect of Chinese citizenship from Xinjiang. It also took the occasion to attack and smear China's Xinjiang policy. Xinjiang government and its people of all ethnic groups strongly deplore and reject it.
Today, I would like to reiterate here: Sayragul Sauytbay is on Xinjiang public security authorities' online list of wanted persons for suspected crimes, including illegal border crossing and loan fraud. She never worked in any vocational education and training center. She made up lies to confuse the public and smear Xinjiang, a despicable a vile act indeed.
On April 5, 2018, Sayragul sneaked cross the border and went to Kazakhstan from China-Kazakhstan Horgas International Border Cooperation Center, which was taken as an conduct of illegal border crossing, according to Article 322 of Criminal Law of China. In June, 2015, she applied for a 10-year-term repayment loan of 200,000 yuan (about 28,000 U.S. dollars) with forged guarantee materials and guarantor's signature from a Rural Credit Cooperative at Chahanwusu Town, and currently she still has 149,000 yuan of the loan debt. Again, in December 2016, she applied for another 10-year-term loan of 270,000 yuan with fabricated purchase contract, which she now still owes 249,000 yuan. Hence, she is under charge of loan fraud, according to Article 193 of Criminal Law of China.
Q: According to your introduction, no new confirmed cases have been reported for 23 days in a row. How does Xinjiang prevent cases from outside the region as a big number of people come to Xinjiang every day?
A: On February 26, Xinjiang adjusted first-level public health emergency response to second-level, and again to third-level on March 7, according to the situation of epidemic control. In the next steps, we will keep a clear mind, be prepared for unexpected developments, and comprehensively carry out the central government's general requirement of having full confidence and relying on concerted effort, scientific containment and targeted measures in line with Xinjiang's epidemic situation and work realities. We will take targeted measures to guard against new coronavirus cases coming from the outside, improve our mechanisms in a more precise and refined way, and carry out scientific management with better service to substantially enhance service management and health protection for people coming to Xinjiang, to make them feel safe and comfortable.
Q: While carrying out the epidemic prevention and control, how does Xinjiang coordinate and promote its economic development, resumption of work and production, spring plowing and preparation, and poverty alleviation campaign?
A: Xinjiang has given equal emphasis to epidemic prevention and control and its key tasks of economic growth, resumption of work and production, spring plowing and preparation, and poverty alleviation campaign. The economic, social, production and life order has been fully restored in Xinjiang.
Policy support has been refined to promote all links of the industrial chain to resume production in a coordinated manner. We have tried all means to help enterprises solve their difficulties and problems in employment, raw materials, capital, equipment, and sales. All-out efforts have been made to achieve the orderly flow of people, capital and materials, the effective connection among production, supply, and marketing as well as among domestic and foreign trade, to substantially improve the overall benefit and level of production resumption. So far, 91.7 percent of enterprises above the designated size and 100 percent of central enterprises in Xinjiang have resumed production.
As of the end of 2019, 2.5 million poverty-stricken people from 614,100 households, 2,683 villages, and 16 countries had been lifted out of poverty, with the poverty headcount ratio down to 2.21 percent from 29.1 percent in 2013. Our next step is to focus on providing people under poverty with adequate food and clothing as well as compulsory education, basic medical care, and housing, remain steadfast in our poverty alleviation goals and take more targeted measures, so as to fight a victorious battle on poverty and consolidate our results. By then the remaining 10 counties, 559 villages and 165,800 people will surely be lifted out of poverty. (Updated)