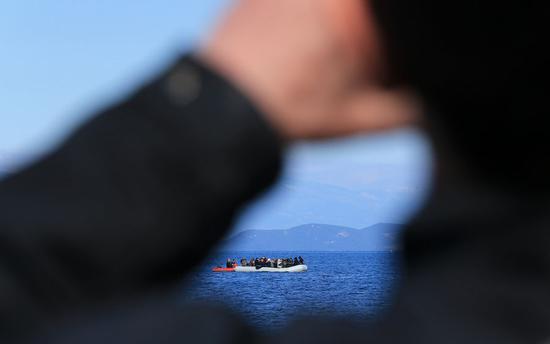 A boat full of refugees from Turkey approaches the port of Thermi, on the island of Lesvos, Greece, on March 1, 2020. (Xinhua/Marios Lolos)
Leaders of European Union (EU) institutions expressed on Tuesday their support for Greece and determination for a common European response to the refugee, migrant challenge after a visit to the Greek-Turkish land border.
European Council President Charles Michel, European Commission President Ursula von der Leyen, European Parliament President David Sassoli, and Croatian Prime Minister Andrej Plenkovic attended the press conference held in the town of Kastanies in the Evros region with Greek Prime Minister Kyriakos Mitsotakis, after being briefed on the crisis unfolding on the Greek-Turkish land border since last Friday.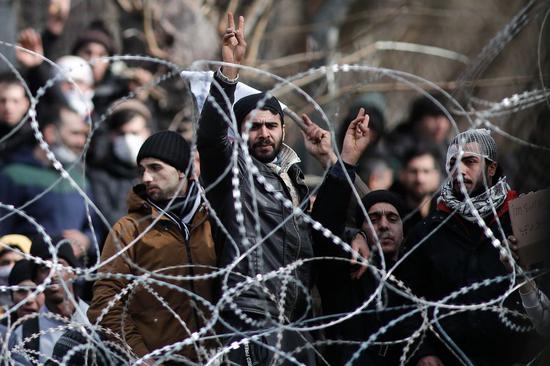 Migrants and refugees are seen behind a wired fence at the borderline between Greece and Turkey near the closed Kastanies border crossing in northeastern Greece, where thousands gathered near the Evros River in an attempt to cross into Greece, on March 2, 2020.(Photo by Dimitris Tosidis/Xinhua)
Tens of thousands of refugees and migrants have gathered on the Turkish side of the border, after Ankara said it could no longer prevent them from reaching Europe's borders.
Greek police and armed forces have been strengthened on the border and until Monday evening they had prevented over 24,000 illegal crossings and detained 183 persons who crossed the border, according to Greek government sources.
In the past few days, the Greek government has repeatedly stated that it faces a national security threat and therefore has stepped up patrols on land and sea borders and requested the immediate substantial aid from other EU member states.
"The Greek borders are the European borders and what you are doing is important for Greece and crucial as well for the future of the EU. We are together, because we consider borders protection is essential," Charles Michel said on Tuesday.
"We have come here today to send a very clear statement of European solidarity and support to Greece," von der Leyen stated.
Greece will receive an additional 700 million euros (784 million U.S dollars) of financial aid for the management of the crisis, she announced, noting that European Border and Coast Guard Agency (Frontex) is already getting ready to deploy a rapid border intervention unit to assist Greece in dealing with the situation.
"It is the responsibility of Europe as a whole and we will manage it in an orderly way, with unity, solidarity and determination. Those who seek to test European unity will be disappointed," she added.