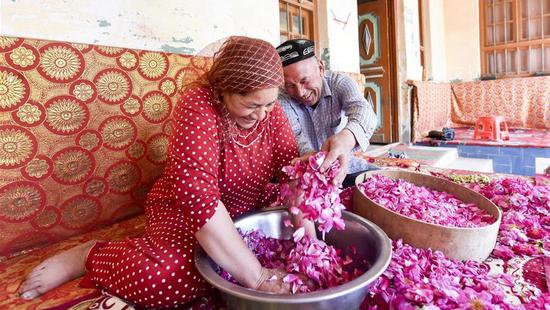 Flower grower Ruz and his wife Tajinisa make rose sauce at a village in Hotan, Northwest China's Xinjiang Uygur autonomous region, June 6, 2018. (Photo/Xinhua)
Officials in the Xinjiang Uygur autonomous region say a "name list" of people allegedly sent to vocational education and training centers in the autonomous region for having relations with people overseas was fabricated by East Turkestan terrorist forces.
The "Karakax List", published by German scholar Adrian Zenz on Feb 17, claims that 311 people from Moyu (also known as Karakax) county, in Xinjiang's Hotan prefecture, were sent to vocational education and training centers for having relations with people who have gone abroad and not returned to China. Zenz claimed his findings are based on leaked Chinese government documents.
Mehmutjan Umarjan, head of Moyu county, said on Saturday that the list was fabricated in collusion with East Turkestan forces in and outside China that aim to separate Xinjiang from the country.
Xinjiang has set up vocational education and training centers in accordance with the law to provide courses on the standard Chinese language, laws, vocational skills and deradicalization programs for people influenced by religious extremism and terrorism, according to the regional government.
"After investigation, it was found that most of the 311 people on the 'Karakax List' are residents of the Bositan neighborhood. They have been working and living normally in society the whole time, and only very few people, who were affected by religious extremism and committed minor offenses, received vocational education and training," Mehmutjan said.
Only 19 people on the list have overseas contacts, and they have never been sent to the centers, he said at a news conference on Saturday in Urumqi, the regional capital.
Habier Mehsut was one of them.
"My father lives abroad, and we often call each other. I've heard that some bad guys are using our information to cheat people, so I'm here to tell you the truth and to keep them from getting what they want," Habier said.
'His old tricks'
Mehmutjan said Zenz is known for publishing baseless remarks, intending to cooperate with anti-China forces in smearing Xinjiang in the name of academic research.
"Now he is just up to his old tricks again.... I believe the purpose of his research is to concoct 'evidence', create new hot spots and stir up old topics for anti-China forces in the United States to attack and slander Xinjiang," he said.
Yalikun Yakup, deputy head of the Xinjiang Public Security Department, said some ill-intentioned people in the West, like Zenz, have tried to pass off their criminal acts as though they were normal activities so as to attack Xinjiang's counterterrorism and deradicalization measures.
Police investigations have shown that many going abroad for "tourism" actually joined terrorist and extremist organizations after leaving China. People who seem to be having normal conversations with relatives abroad are actually plotting terrorist attacks, Yalikun said at the news conference.
"As for people selling their properties and leaving Xinjiang, it seems that they just changed their place of residence, but investigations have shown that some of them actually intended to make a "Jihadi migration" and join Islamic State by illegally crossing the borders," Yalikun added.
For those who travel aboard, contact people outside of China and sell their properties and leave the region for normal purposes, there are no restrictions and countermeasures at all. On the contrary, their legal rights are protected by law, Yalikun said.